Twenty-three years ago today our 41st president, George H.W. Bush, signed the Americans with Disabilities Act of 1990 into law. At that time I was still living in Oklahoma, just 23 years old. I'd completed all but one course for a bachelor degree in architecture, though I don't recall the idea of accessibility ever coming up in my 5 years in school.  Accessibility was on the radar of some, but it wasn't law so it was easily ignored.
I had no idea that just 18 years later I'd come to be so thankful the bi-partisan congress passed the law and the president signed it.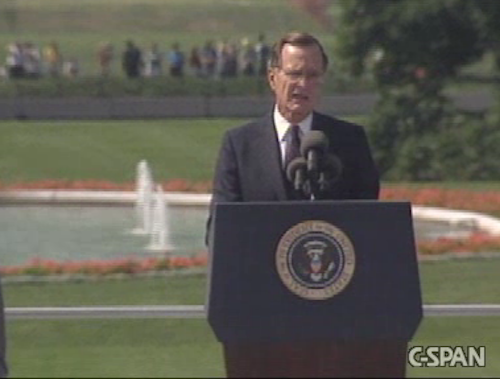 Today Bush, 89, is seen publicly in a wheelchair  — not standing. He's got a Secret Service detail to help him, he's not going grocery shopping or taking the bus to the doctor like us regular folks.
Don't think this doesn't apply to you, the statistics around disability are eye opening to many:
Just over 1 in 4 of today's 20 year-olds will become disabled before they retire.
Over 37 million Americans are classified as disabled; about 12% of the total population. More than 50% of those disabled Americans are in their working years, from 18-64.
8.8 million disabled wage earners, over 5% of U.S. workers, were receiving Social Security Disability (SSDI) benefits at the end of 2012.
In December of 2012, there were over 2.5 million disabled workers in their 20s, 30s, and 40s receiving SSDI benefits. (source) 
If not you in your working life, then likely a family member, friend, or co-worker.
As I show often there is a lot of work to be done, but without the ADA I couldn't live the independent life I lead.
— Steve Patterson