Today and tomorrow the annual PrideFest celebration will take place in downtown St. Louis. For many years the parade was on South Grand, ending in Tower Grove Park. Before that the parade was on Euclid, ending in Forest Park.
For those of you who aren't familiar with the gay rights movement and why we celebrate in June:
In the early hours of June 28, 1969, a group of gay customers at a popular gay bar in Greenwich Village called the Stonewall Inn, who had grown angry at the harassment by police, took a stand and a riot broke out. As word spread throughout the city about the demonstration, the customers of the inn were soon joined by other gay men and women who started throwing objects at the policemen, shouting "gay power."

Police reinforcements arrived and beat the crowd away, but the next night, the crowd returned, even larger than the night before, with numbers reaching over 1000. For hours, protesters rioted outside the Stonewall Inn until the police sent a riot-control squad to disperse the crowd. For days following, demonstrations of varying intensity took place throughout the city.

In the wake of the riots, intense discussions about civil rights were held among New York's LGBT people, which led to the formation of various advocacy groups such as the short-lived Gay Liberation Front, which was the first group to use the word "gay" in its name, and a city-wide newspaper called Gay. On the 1st anniversary of the Stonewall Riots, the first gay pride parades in U.S. history took place in Los Angeles, Chicago, San Francisco, and near the Stonewall Inn in New York.

The Stonewall riots inspired LGBT people throughout the country to organize in support of gay rights, and within two years after the riots, gay rights groups had been started in nearly every major city in the United States. (civilrights.org)
In 1987, just 3 years before moving to St. Louis, I drove a vehicle in Oklahoma City's inaugural Gay Pride Parade. I was just 20 and we didn't know what to expect. Turnout was good and nobody got beat up.
Over my years in St. Louis I've attended our St. Louis parade on Euclid and on South Grand, participating a few times. As a downtown resident of 5+ years I'm glad to see the event relocate to downtown.
Some in the LGBT community, including many friends, aren't happy about the move downtown.  They're having a picnic this morning at the Tower Grove Farmers' Market followed by a block party at Hartford @ Grand. I'll stop by if I can but I know I'll be able to travel a few blocks to for the main event, here's some basics from the Partnership for Downtown St. Louis:
PrideFest 2013 is happening this Saturday, June 29 and Sunday, June 30 at Soldiers' Memorial.

On Sunday, the Pride 5K begins at 7 am, followed by the Pride Parade at 11 am. The Pride Parade will begin at Market and 8th Street, and will travel west to 18th Street for full disbandment. All street closures will be contained to Sunday.

Parade Closures

Market closed from Broadway to 18th Street, starting at 6 am

7th Street closed from Walnut to Chestnut, starting at 6 am

8th Street closed from Chestnut to Walnut, starting at 6 am

**All side streets leading into Market from Chestnut on the North and from Clark and/or Walnut on the South will be closed, starting at 6 am**

The exact closure times of some streets will be contingent on police direction that morning. Streets are scheduled to reopen by 3 pm Sunday.

5K Closures

The Pride 5k will do a continuous loop around Soldiers' Memorial, starting at Pine & 15th Street; to Pine & Tucker; to Tucker & Market; to Market & 17th Street; back to Pine to complete the loop.

Pine closed from Tucker to 18th, 6 – 8:30 am

**Additional closures for the 5k will be side streets leading into Pine from Olive, between Tucker and 17th Street**

Tucker will be closed starting at 6 am from Olive to Clark and will reopen after the 5K contingent upon crowd size and police discretion.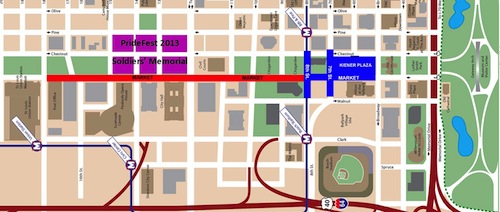 The boyfriend and I will be at the parade Sunday, this will be his first.
— Steve Patterson