In two weeks voters will decide the winner in some hotly contested primary races, including mayoral. Haven't seen any independent candidates or competitive third-party candidates so the Democratic primary will likely decide these races. Remember independent Scott Ogilvie won a seat on the Board of Aldermen in the April general election, defeating the winner of the Democratic primary.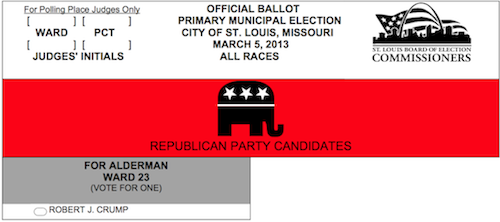 Four years ago seven candidates ran in the 23rd Ward Democratic primary, it was an open seat then. Now with an incumbent running for reelection nobody is interested. This is how incumbents become entrenched, nobody challenges them.
At least the local Green Party has a number of candidates on the ballet but here the primary is costly. Since there are candidates for two citywide seats (mayor & comptroller) ballots must be printed for availability at all precincts.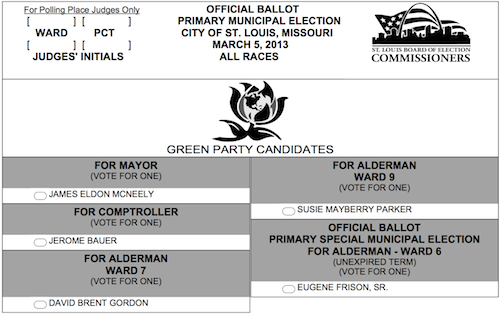 Of the 17 races in the Democratic primary only 8 have a challenger. As I've said before, St. Louis should consider dropping partisan primary elections. Put all the candidates in one election with instant-runoff voting when you have more than two candidates seeking the seat.  Hopefully we can get this change passed in the next decade so it can become active at the time the reduction of the Board of Aldermen happens.
Tomorrow night is a chance to hear from some of these candidates.
The Amazing Candidate Race, Wed, February 20, 7:00pm – 8:30pm

How much do the candidates really know about multimodal transportation and sustainable development? Do they have special skills that distinguish them from other candidates? You'll find these answers and more at The Amazing Candidate Race. Civic participation has never been so fun!

Trailnet and the Livable St. Louis Network are proud to present the first St. Louis candidate forum focused on livability issues of land use and transportation.

Contemporary Art Museum 3750 Washington Blvd. St. Louis, MO 63108

Who: Mayoral candidates (in ballot order) Francis Slay, Jimmie Matthews, Lewis Reed and Aldermanic candidates Michelle Hutchings-Medina (5th Ward), Damon Jones, Christine Ingrassia, Michelle Witthaus (6th Ward), Jennifer Florida and Lisa Miller (15th Ward) (see flyer)
Glad to see Trailnet hosting such an event.
— Steve Patterson