Half  a century ago work began on Eero Saarinen's stainless steel Arch.
The Gateway Arch was designed by Finnish-American architect Eero Saarinen and German-American structural engineer Hannskarl Bandel in 1947. Construction began on February 12, 1963, and ended on October 28, 1965, costing US$13 million at the time (approximately $95,900,000 in 2013). The monument opened to the public on June 10, 1967. (Wikipedia)
Demolition of 40 city blocks began on October 10, 1939, leaving a large area vacant for over two decades.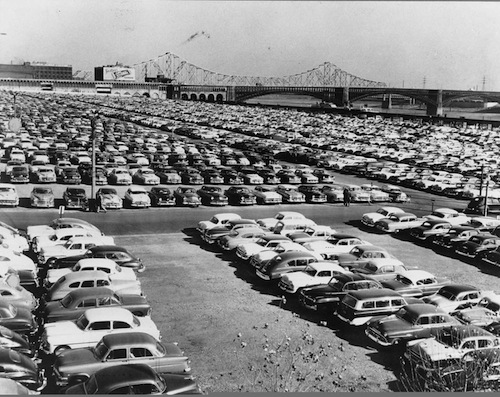 Fast forward to today and we have efforts to commemorate the 50th anniversary of the last piece of the Arch being placed on October 28, 1965. This month they will report the progress:
CityArchRiver 2015 partners will host the third annual Report to the Community on Thursday, February 21. The report will provide the latest news and updates on the project to transform the Arch experience by making it safer and more accessible for visitors.

Representatives from CityArchRiver 2015 Foundation, the National Park Service, Haley Sharpe Design, Missouri Department of Transportation and Great Rivers Greenway District will discuss progress to date and describe new developments. Representatives will be available to answer questions and take comments during an open house immediately following the program.

(snip)

The Report to the Community will be held at the Ferrara Theatre in the America's Center at 701 Convention Plaza, St. Louis, Mo. 63101. Doors open at 5:30 p.m. with the presentation scheduled from 6 p.m. to 7:30 p.m. After the event concludes, attendees are invited to participate in the open house in the lobby from 7:30 p.m. to 8:30 p.m. (Press Release)
I'm looking forward to hearing the latest on this project to address connectivity issues with the site.
— Steve Patterson