Last week readers indicated in the poll the millions spent renovating the Central Library was a good investment. The results are at the very end but I want to show you some areas where the library has changed. I was fortunate to tour the library with the AIA St. Louis last week, many photos below.
The library  reopens to the public on Sunday December 9, 2012 so you can see in person then.
First we need to understand how the central library was designed. From the sidewalk it appears to be a solid mass, but that is not the case.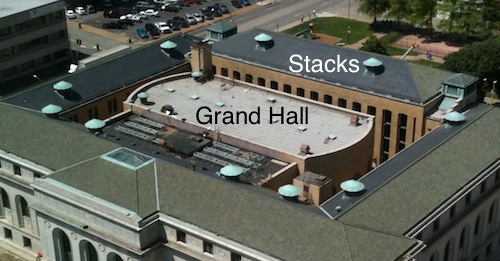 So now you know how the building is organized around the grand hall, let's head inside.
Still here? Below are the poll results:
Q: $70 Million To Renovate The Central Library A Good Investment?

Yes 113 [73.38%]
No 17 [11.04%]
Maybe 13 [8.44%]
Unsure/No Opinion 10 [6.49%]
Other  "too much money but needed some renovation": 1 [0.65%]
I was nervous about changing the library, the impact of so much money could've been a bad thing. In the end I think we've made a great investment for the next 100 years. St. Louisans in 2112 can decide what to do next.
— Steve Patterson