I never paid much attention to Griffin Delivery because they only delivered in the South Grand area, which I've never lived in. But recently I was attending a Public Safety committee meeting at the Board of Aldermen and Griffin Delivery owner Andy Heaslet was there to speak on another bill, mentioning they'd just started food delivery by bike in downtown. My ears perked up and I passed him my card when he sat back down.
Eager to try out their delivery service I ordered lunch through their website griffindelivery.com. At that time, last month, they only offered lunch from Pickles Deli  (701 Olive) but they've since added Tortilla Grille (200 N. 6th) and Lola (500 N. 14th). Heaslet & Goulet told me more restaurants will be added as the service ramps up.
Ordering is done through griffindelivery.com, the menu for each restaurant is part of website. I was able to select the type of bread and cheese for my grilled cheese. You can select to receive email and/or text messages to be notified when the courier arrives at the restaurant and when your food is on the way. My food was still warm when it arrived!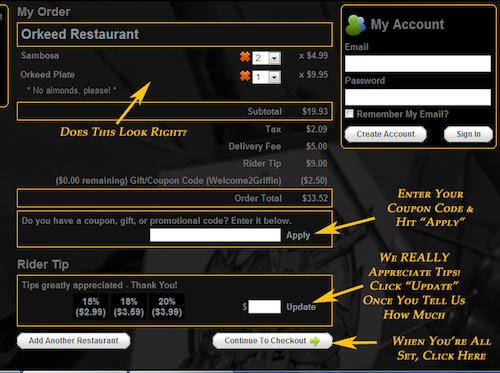 I personally hate talking on the phone but Griffin Delivery offers a high-tech way to get food delivered from localy-owned restaurants in a low-carbon way — by bike.
Right now downtown delivery is weekday lunch and  dinner down south, but they are looking to expand hours in both.
On Wednesday morning I ordered lunch 90+ minutes before I wanted to eat, allowing me to concentrate on some work. I can already tell that I'll be having food delivered more often now, time to set a monthly limit for myself.
— Steve Patterson