When Desco built the 9th Street garage to support their renovation of the Old Post Office they didn't design is for a grocery store, even though Desco is Schnuck Markets development arm. If you've shopped at Culinaria you're well aware of the shortcomings inside.  If you've walked there you're likely aware of them from the exterior too.
This time I saw the truck on my way to Culinaria so I stayed on the north side of Locust. Other times I was blocked, I even had to wait once while a truck backed in.
That's the loading dock, before then is the vehicle exit from the parking garage.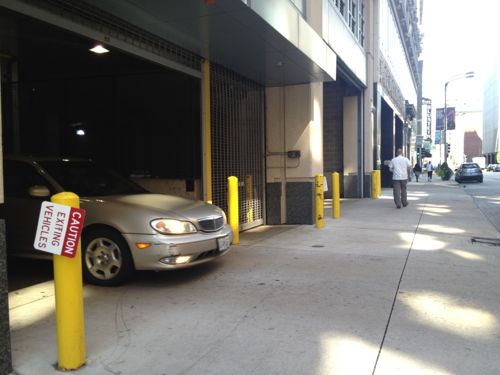 Pedestrians are told through falling signs to use caution because of exiting vehicles. Some garages have an audible sound to alert pedestrians when the gate goes up to allow a vehicle to leave. Not here. Well, I'm sure motorists are cautioned to look for pedestrians.
Nope! Nothing on the ramp to remind drivers to look out for and to yield to pedestrians.  If an audible sound were to go off when the gate goes up that would also help alert drivers to pedestrians crossing their exit route.
Warn the pedestrians about cars but not warn the drivers about pedestrians. Figures.
– Steve Patterson