The headline isn't referring to the visibility of transit vehicles, but the transit agency itself. More specifically the transit store and board of directors.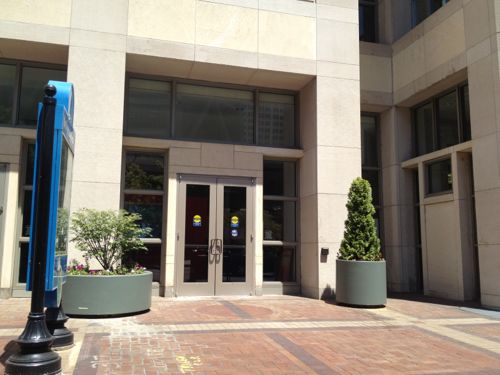 Above is the entrance to Metro's MetroRide Store where you can get transit schedules and buy transit passes. Everyone walking by on Washington Ave would know that, wouldn't they? The Convention Center MetroLink station is a block to the east, the #40 (Broadway) MetroBus also stops there.  Some photo ID services are here, seniors and disabled have to visit the strip center on DeBaliviere. Metro's headquarters is in a building a block away from the Laclede's Landing MetroLink station, not serviced by a single bus line.
In Dallas last month I noticed how DART (Dallas Area Rapid Transit) was totally different, you know, making sure people knew how to find it.
Retailers know to get customers they need to draw people into their stores for a sale to happen.
I also like how DART calls their light rail simply "rail", very equal to "bus." All transit riders ride DART regardless of whether they ride bus, rail, paratransit.
Visibility extends to the board managing the agency.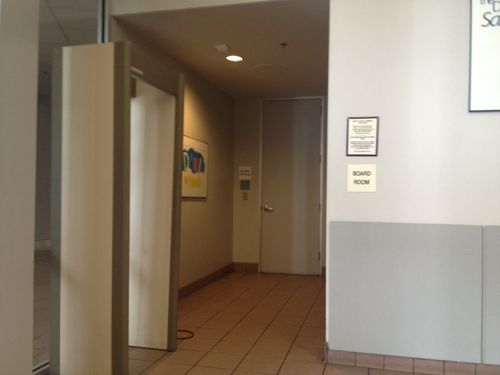 Our MetroRide Store description tells another part of the problem: Location
Trying to decide which Metro Pass or Ticket is the best value for you? For assistance with your Metro fare purchases, you can call or visit the MetroRide Store, 701 Convention Plaza, St. Louis, MO 63101, 314-982-1495, (located inside America's Center at 7th & Washington, Downtown St. Louis), open 8:30 a.m. to 5:00 p.m. weekdays. The MetroRide Store accepts MasterCard, Visa, Discover and American Express, personal checks, debit cards and government transportation vouchers.
701 Convention Plaza? Some know Convention Plaza used to be called Delmar but part downtown was renamed in the 1970s when the Cervantes Convention Center was built. In the early 1990s the convention center was expanded two blocks south to Washington Ave, at that time Convention Plaza was bisected by the expanded building.
The address should be 703 (or 705) Washington Ave!
You have to really want to buy a transit pass or attend a Metro board meeting to seek either out. Neither should be as difficult as they are. Tomorrow I'll share a few ideas I think we should consider copying from DART to improve bus and rail service in St. Louis.
— Steve Patterson