Count me among those who think St. Louis needs to remove the elevated section of I-70 north of Washington Ave that cuts off Laclede's Landing from the rest of downtown. These types of elevated lanes were built during a period where little, if any, consideration was given to pedestrians. The negative consequences weren't considered at the time but they became apparent later.
As a kid growing up in Oklahoma City we'd have to drive under an elevated highway to get to downtown. I rarely drove on I-40 since it was an east-west route and we lived a few miles directly south of downtown. The few times I did drive across the elevated highway I was nervous doing so, the lanes were narrow and the condition was poor. I never once walked under it.
The Oklahoma City Crosstown is an elevated four mile (6 km) stretch of Interstate 40 that dissects downtown Oklahoma City from Agnew Avenue to Byers Avenue. It is owned and maintained by the Oklahoma Department of Transportation (ODOT). It is the primary east–west artery through Oklahoma City, and serves an unofficial dividing line between north and south Oklahoma City (the official dividing line for address purposes is [Reno Avenue]). While the Crosstown designed to withstand about 76,000 vehicles a day, it is currently used by nearly 120,000 vehicles a day. The Crosstown was completed in the 1960s using an engineering process commonly termed as "fracture critical", a process that has not been used since the 1970s because it does not provide redundancies. According to Brian Windsor, an ODOT structural engineer, without redundant support, the failure of a single beam creates the risk of total collapse of that section of bridge. The entire stretch of the Crosstown is elevated, and at some points, the elevation is as much as 50 feet (15.2 m). Other safety problems of the existing Crosstown include falling chunks of concrete and a lack of shoulders or breakdown lanes. In an August 2007 poll sponsored by The Oklahoman, nearly ? of respondents indicated that they were "afraid to drive across the Crosstown bridge in Oklahoma City". (Wikipedia)
It wasn't a good roadway, nor could it be retrofitted. It had to come down.
Well, the four mile elevated stretch of I-40 is now closed and is being dismantled. This was years in the planning and before you ask, yes they built a replacement highway in a wide trench a half mile to the south. Part 2 tomorrow will look at the new highway.
As I indicated earlier, I-40 is a major east-west highway:
Interstate 40 (I-40) is the third-longest major east–west Interstate Highway in the United States, after I-90 and I-80. Its western end is at Interstate 15 in Barstow, California; its eastern end is at a concurrency of U.S. Route 117 and North Carolina Highway 132 in Wilmington, North Carolina. Much of the western part of I-40, from Oklahoma City to Barstow, parallels or overlays the historic U.S. Route 66. I-40 intersects with eight of the 10 primary north–south interstates (all except I-5 and I-45) and also with I-24, I-30, I-44, I-77, and I-81. (Wikipedia)
Locals use I-40 but so do many more just passing through Oklahoma.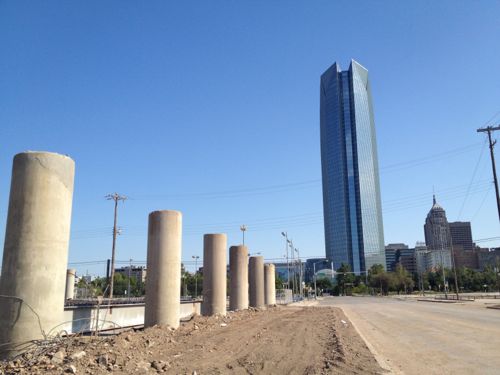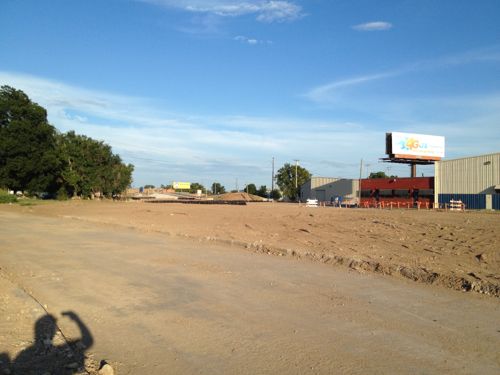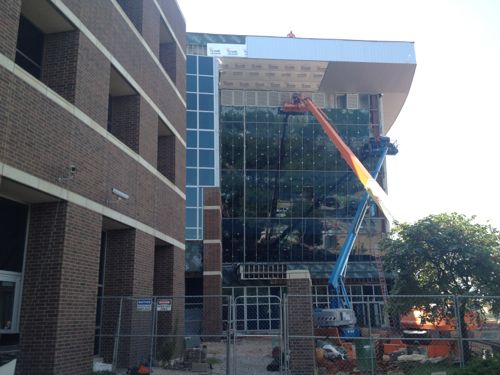 Tomorrow I'll continue the story with a look at the new I-40 and how to cross it as a pedestrian. I'm excited about visiting Oklahoma City during the coming years as they fill in where the highway was removed.
— Steve Patterson