Several years ago I suggested an urban bridge over the train tracks at Grand, storefronts lining each side of the bridge. These would be built on the ground below and designed to have a floor level even with the bridge. With the old bridge out of the way we can see this was entirely possible — only 3-4 train tracks have to be crossed and combined with Scott Ave the bridge span would've been 250 feet for so.
But the new bridge wasn't designed with that in mind. However, the spans aren't as long as the prior structure because previously open areas were built filled-in.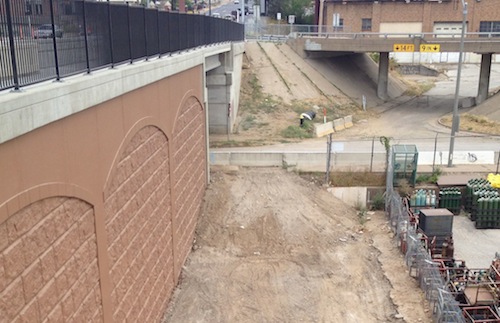 As you can see from the above image it's just ground next to the viaduct, it's not spanning the Mississippi River! Hold that thought though while we take a look at what was replaced and what was built.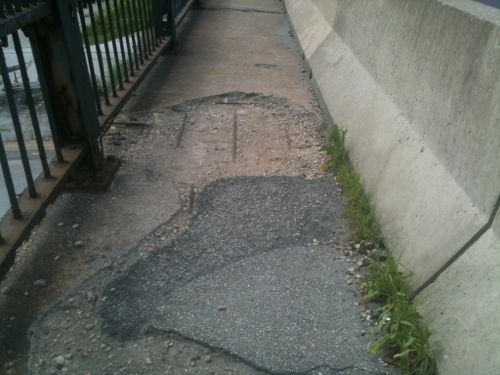 Crossing the old bridge/viaduct as a pedestrian was a miserable experience. It was narrow and at the center it got crowded with transit riders for the #70 (Grand) MetroBus and MetroLink.
Now it's a much better pedestrian experience!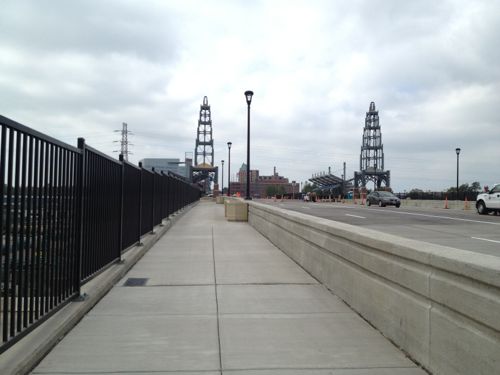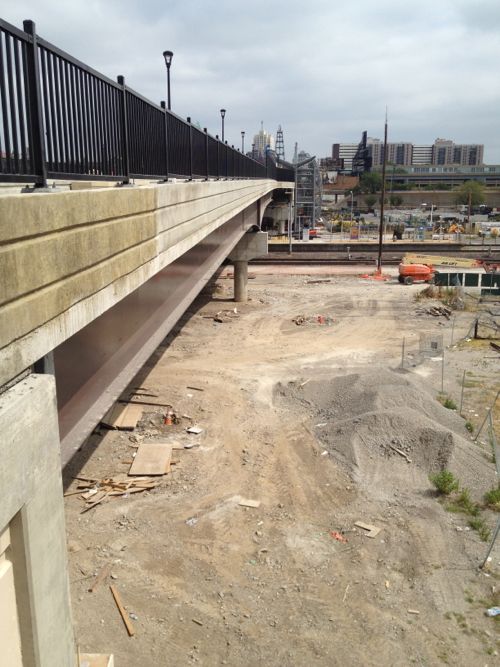 Ok, I like the new viaduct but it's still a long distance from end to end — I'd still like to see structures built up next to the bridge over time. Next to the open section shown above might be problematic, but the earlier area near Scott Ave shouldn't be difficult.  However, a building foundation next to the foundation for the fill wall might be challenging, I'm not an engineer.
The old sidewalk was narrow and the new sidewalk isn't much wider, it also lacks street trees.  I'd like to see new buildings north and south of Papin St but I don't think they should abut the sidewalk. Keep them back 10-15 feet, not 75+ feet the way Saint Louis University tends to do. Since the above is at grade and it won't have on-street parking to separate pedestrians from traffic it really needs to have street trees and more width.
Remember that SLU wants more students walking from the main campus north of the viaduct to the medical campus to the south. The plants on the viaduct will help but we need street trees between cars and pedestrians where possible and buildings to give a sense of enclosure. This will be easier to accomplish on the west side so let's cross Grand and have a look.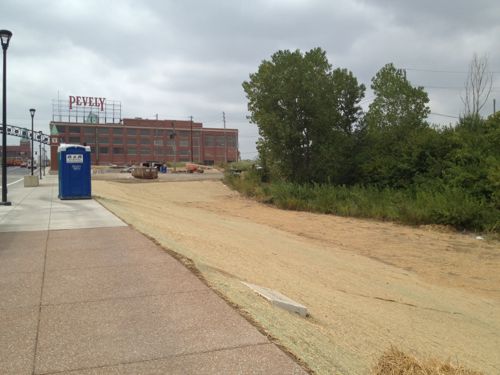 Unfortunately with SLU involved and their plan to raze the Pevely building in the background I'm not optimistic about the future of this area. It'll likely be much like walking next to SLU. Perfect manicured green grass and buildings set back 100 feet or more from the sidewalk, totally anti-urban rather than appropriate transit adjacent development.
Hopefully I'm wrong and good urbanism will get built on either side of Grand.
— Steve Patterson