As promised, Missouri Attorney General Chris Koster released the confidential proposal from the St. Louis Rams to the St. Louis Convention and Visitors Commission (CVC).
To Whom It May Concern:

In compliance with Chapter 610, the Missouri Sunshine Law, Attorney General Chris Koster made the following documents publicly available in response to various media inquiries and Sunshine requests regarding ongoing negotiations between the St. Louis Convention and Visitors Commission and its lessee.

Respectfully,

CHRIS KOSTER

Attorney General
Their proposal is significantly different than what the CVC had proposed. To me it seems like a new facility given how much would be entirely new.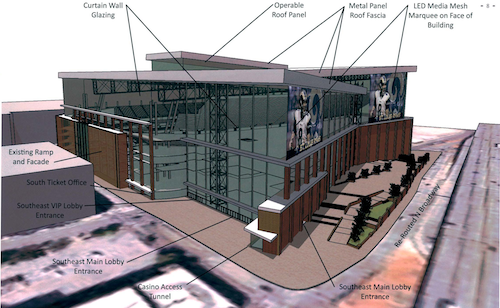 This means the dome is getting significantly larger than it is currently. The near corner of the drawing above includes access to the casino tunnel. The 2010 image below shows you where that is currently:
As you can see that's a lot of new building. Clearly the Rams want more than the lipstick the CVC proposed (see CVC Plan To Improve Dome Improves Broadway).
This brings up several thoughts:
Perfect excuse to make 4th & Broadway each two-way rather than the current one-way configurations
This would work well with the boulevard replacement of the I-70 elevated lanes, see CitytoRiver.org
Unlikely the St, Louis region is going to pony up the money for this.
I haven't read the proposal in detail yet. You can read the proposal here.
– Steve Patterson