Last week I went to the MetroBus stop on the NE corner of 18th & Washington Ave to catch the #97 Delmar bus westbound. The normally full parking lot behind the bus shelter was empty except for a for lease/sale sign.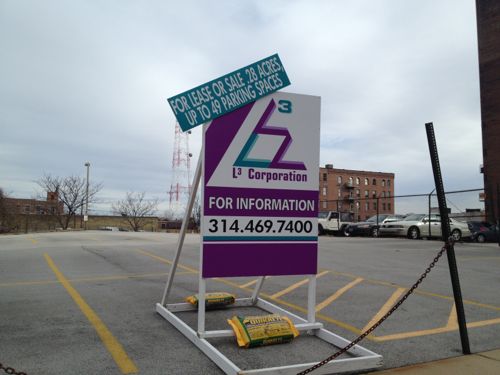 The lot is owned by a couple in Glencoe Missouri but had been leased by Consumers Program Inc, aka CPI, located across the street.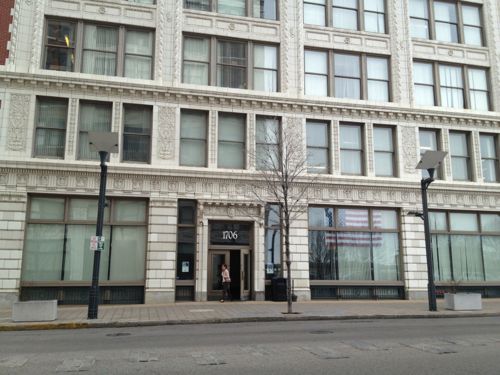 Presumably CPI didn't renew the lease to save money, having employees use one of the three parking lots they own. One is city block #831 bounded by Washington, 16th, St. Charles St and 17th — this is the block directly east of their building. This block once was occupied fully by a building that was part of Brown Shoe.
CPI's other two lots occupy two more corners at 18th & Washington — the SE & NW.
Three of the four corners are surface parking, the fourth corner (SW) is occupied by Mulligan Printing.
Mulligan Printing's 5-story building was built in 1928. The closed up windows at the street level are unfortunate but at least the building massing is good — far better than a surface parking lot.
What is the future of this intersection? Will it always be mostly surface parking lots? The planner in me would like to see form based codes to replace our old use-based codes. Instead of detailed regulations depending upon the original intended use of any new construction, a form-based code would require a minimum height, the building pushed out to the property line, windows and doors at sidewalk level, etc. The architectural style, just like the use inside, of any new construction is of little concern me.
In the future I'd like to see the current situation reversed with buildings on three corners and only one corner with surface parking. It might take 40 years to happen but it'll never happen under our current zoning.
– Steve Patterson