The presentations were completed and the Planning Commission had asked questions of Saint Louis University representatives about their appeal. Don Roe, Director of the St. Louis Urban Design & Planning Agency was discussing procedures with the members of the Planning Commission and Saint Louis University President Biondi got up and spoke for an additional two minutes — saying if the demolition of the Pevely office building isn't granted he'll move the medical center to St. Louis County.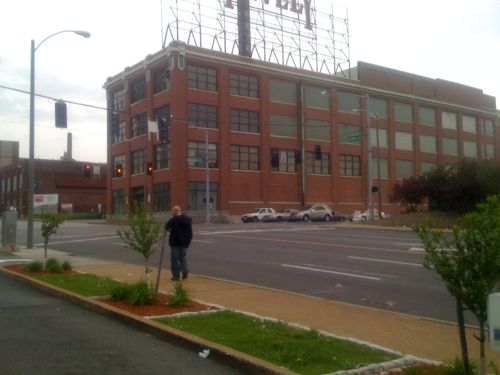 Biondi shouldn't have been allowed to speak at that point — anyone else in the room would have been silenced immediately. But what he said was a very clear threat –don't overturn the Preservation Board's decision and we'll abandon the city like every other catholic hospital in town has done before us!
Sorry for the poor audio:
httpv://www.youtube.com/watch?v=ub8u2khAo3c
"What I forsee, if you don't approve our request, is that we would have to shut down our medical school and find property in west county," noting that 35 years ago, Maryville offered up land for the university to move west. Earlier, Biondi cited the school's record of renovating and restoring historic buildings and also highlighted the law school's impending move to downtown. (KMOX)
The Planning Commission voted to reverse the the Preservation Board and allow demolition of the corner office building with the condition a permit has been issued for construction of the new project. Â They reversed the Preservation Board and allowed demolition of the historic smokestack without any conditions. They modified the Preservation Board decision on the milk plant and garage to allow demolition to proceed at once on those.
– Steve Patterson