My post last Monday was about the commercial district along Grand Ave around the Old White Water Tower (Grand Ave Water Tower Commercial Area Had Such Potential, Still Does). Although all the original buildings on the circle have been razed, I still see potential for the area.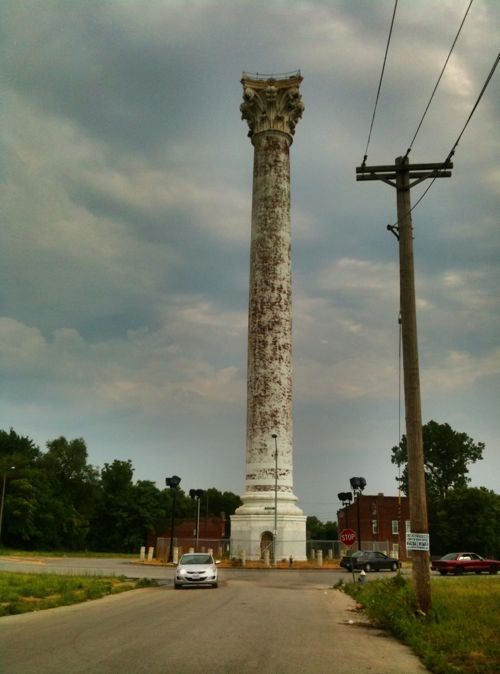 Every good commercial district needs an identity (See The Loop, Grand South Grand, Cherokee, etc) so I figured why not see what we could collectively come up with for the stretch of East Grand Ave centered at the Old White Water Tower at North 20th Street.
The area is entirely in the College Hill neighborhood:
The name College Hill was given to this area because it was the location of the St. Louis University College Farm. This area, bounded generally by Warne (O'Fallon Park, I-70, Grand Blvd. and West Florrisant was acquired by the University for garden and recreation purposes in 1836, it was subdivided in the early 1870's. The Bissell Mansion, the Old Water Tower at 20th Street and East Grand Avenue, and the Red Water Tower at Bissell Street and Blair Avenue are mainstays in this old Northside neighborhood and are testimony of a rich historical heritage. The housing of this neighborhood dates back between 1880 and 1920. Town and four family flats predominate the neighborhood, with a mixture of single family brick dwellings. The houses have large yards and are ideal for landscaping. The homes located near the crest of the hillside bluff enjoy a view of the river and its valleys. Nearly half of the housing dwellings are owner-occupied. Historically the area's commercial center has been concentrated along East Grand around the Old Water Tower with a strip along West Florissant.
The neighborhood map looks like this:
The poll this week asks you to name the commercial district. I've provided the following answers:
20 Grand
Bissell Point
College Hill
Grand College Hill
Grand Water Tower District
Old White
The Column
The Corinthian
unsure/no opinion
Doesn't matter, will never become a commercial district again
You can also provide your own answer if you don't like any of those provided.
– Steve Patterson