When I first spotted the "old white" water tower in the middle of Grand Avenue (Satellite image) I was blown away by the commercial buildings that surrounded the iconic white column. First, information on the tower:
Described as "the only perfect Corinthian column of its size in the world," the Grand ("Old White") Water Tower on 20th Street and Grand Avenue was built during the waterworks expansion led by Thomas Whitman (brother of poet Walt Whitman) following the Civil War. The 154-foot tower, designed by architect George I. Barnett, was completed in 1871 at a cost of $45,000. The tower is constructed of a brick shaft resting on a Chicago stone base and octagonal stone platform, topped with an iron capital cast in a leaf design. It was retired from service in 1912. In the 1920s and 30s, beacons placed atop the tower served as navigational aids to pilots seeking Lambert International Airport. Legend has it that Charles Lindbergh once used the lights to find his way home when he was lost in a Mississippi River fog. In 1933, after citizens objected to a recommendation that the monument be torn down, Mayor Bernard Dickmann came to the tower's defense. "To wreck this tower would, to my mind, verge closely on an act of sacrilege," the Mayor declared. (St. Louis Water Division)
The tower was safe, but the context wasn't. It screamed potential. Even boarded, the buildings had such great massing, materials and proportions.Where else does such exist in the country? Nowhere I know of. In 1988, two years before I arrived, Freeman Bosley Sr. was elected to office as 3rd ward alderman.  The potential would be razed, rather than realized.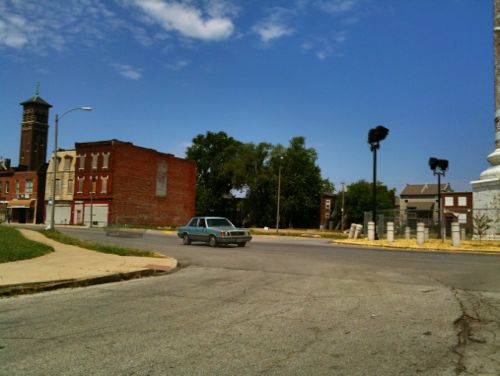 In 1990 South Grand was nothing, the Delmar Loop was just getting started, and the few customers on Cherokee St were looking for prostitutes. None of these three districts had  visionary elected officials but at least they didn't see them as something to actively level.
Some of the land surrounding the tower is owned by the city agency, the Land Reutilization Authority (LRA). The rest of the land is owned by the Citizens for Community Improvement, Inc.
Citizens For Community Improvement Inc in Saint Louis, MO is a private company categorized under Career and Vocational Counseling. Our records show it was established in 1971 and incorporated in Missouri. Current estimates show this company has an annual revenue of $400,000 and employs a staff of approximately 9. Companies like Citizens For Community Improvement Inc usually offer: Greenleaf Job Training Services, Jobs And Training Services, Job Training Services. (source)
So what do we do today?
Begin a planning process for a series of concentric circles around the tower, the smallest circle would be the most detailed. Planning area would be more an oval, along Grand and include I-70 and Florissant.
Develop a catchy name for the commercial district, begin marketing to build an identity.
Develop form-based standards for new construction, Â buildings should be 2-4 stories high.
I see street-level retail with residential units above.  There may be some demand for office space in addition to retail.  No, Plaza Frontenac doesn't have to worry about high-end retailers  leaving the upscale mall for this area. But where you have people there is a need for services.
Of course, this planning should have started 20+ years ago.
– Steve Patterson