It is time for the St. Louis region to realize that, over the years, we've created too many political entities, most from the last (20th) century. I propose a complete overhaul.
Before I get into my solution I want to outline the problem(s) as I see them:
A strong "City vs. County" attitude exists dividing us, holding the region back.
Municipalities within St. Louis County disagree how to share revenues.
St. Louis County experienced a drop in population in the 2010 Census.
We have poor & affluent school districts providing very unequal education to future voters.
Numerous police & fire departments exist.
St. Louis, and the region by association, is viewed nationally as on the decline. This limits the potential to retain talent and attract employers.
In 1876 the bulk of the region's population lived east of Grand, but now the population lives mostly in St. Louis County. As a region we've outgrown our 19th century viewpoint.
OK, so here is my solution: government consolidation on a massive scale.
St. Louis County would become an independent city and absorb the current City of St. Louis and all 91 municipalities within it's current borders.
The new City of Saint Louis would have a population of 1,318,248 (998,954 + 319,294), instantly making it the 8th most populated U.S. city, after San Antonio and ahead of San Diego (see list).
The Greater St. Louis MSA (Metropolitan Statistical Area) would remain the 15th largest with  a population of 2,779,939.The new Saint Louis would contain 47% of the region's population.
Planning districts would be established to plan corridor/transportation projects. Â These would be classified using DPZ's Transects, shown above, offering something for everyone.
Existing government buildings (city halls, for example) would be evaluated and some used as district offices.
St. Louis County's existing buildings in Clayton would become the new City Hall for the new Saint Louis.
Expenses would be incurred in the short term but in the long run savings would be realized.
A Council-Manager form of government would be adopted, a professional municipal administrator hired.
A new non-partisan city council would contain seven members, the presiding officer ("Mayor") would be selected by a vote of these seven. The mayor would oversee meetings and cut ribbons. As an alternate two representatives could be elected from each of seven districts and a mayor elected by the public. Â Either way administrative power would reside with the city manager.
Staff would be empowered to enact the policy established by the city council.
Former municipalities such as Florissant, Ladue & Pacific would become neighborhoods for planning and identification purposes,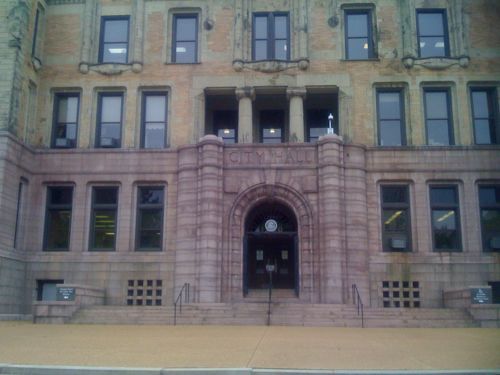 None of this is new, cities and counties have merged in this manner before. Evansiville Indiana is currently in the process:
Tonight is likely the final workshop between the Vanderburgh County Commissioners and the Evansville's City Council before they reconvene their public hearing on June 30 to address a possible city-county merger proposal.

Members of the two bodies have met for five weeks to work on changes to the initial consolidation proposal drafted by a citizen committee earlier this year. Both bodies must ultimately approve identical merger plans for the issue to go to referendum, possibly in November of 2012. (source)
This sort of radical departure from the current forms is needed for the region to end the 21st century better than when we started. Â Discuss.
– Steve Patterson