About 8 years ago I had a client on a quiet & respectable street in the suburb of Chesterfield. What struck me at the time was the number of houses all with a single road to get out of the subdivision. One visit I stopped to reset my trip odometer just to see how long it was from the main road to their house, it was over a mile and a half!
I remembered this area as I read an article about a recent study:
People who live in walkable communities are more socially engaged and trusting than those who live in less walkable areas, says a new study from the University of New Hampshire.

The study buttresses other research that has linked a neighborhood's walkability to its residents' quality of life, notably improved physical and mental health.
The McMansion on the large lot & 3-car garage was once desirable by many, but those days are fading. This subdivision has sidewalks, but no direct connection to each front door!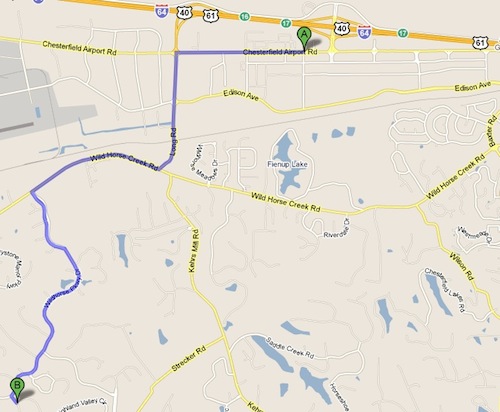 Out of curiosity I decided to run the Walk Score for this street. No surprise it got a 2 out of 100 and the label "auto-dependant"
Half a century ago you couldn't give away mansions in the city. They were big, drafty, and "functionally obsolete." They lacked modern plumbing, wiring and air conditioning. A decade from now these McMansions will be obsolete. The cost to heat & cool these houses alone is enough to make them undesirable but it will be the lack of walkability that will do them in.
In contrast, my downtown address got a score of 95 – walker's paradise. My first apartment in St. Louis (CWE) has a score of 91. My first apartment in Old North St. Louis has a "very walkable" 77. The two properties I owned in Dutchtown have a "somewhat walkable: score of 52. Must someone live in a downtown loft to have a high Walk Score? Hardly. My former office was in Kirkwood where the residential units where the former Target store was located get a 91 "walker's paradise" score. Inner-ring suburbs often score high because they originate in days of streetcars. Ferguson MO gets an 80 and Maplewood 75, both "very walkable." On the Illinois side of the region you have places like Belleville (80) and Edwardsville (86).
Here is how they define the levels.
As gas prices & public transit ridership go up homes in car-deopendent areas will have little appeal. Areas that are somewhat & very walkable will be retrofitted to become more walkable. I've set up a calendar reminder for December 23, 2020 to revisit this issue, and this street in Chesterfield.
– Steve Patterson