In March 1977 the North 14th Street Pedestrian Mall opened with high expectations. Â However, the high expectations quickly turned to high vacancy as merchants closed up shop. Retailers have long known the importance of providing some on-street parking in front of their establishments but over 100 pedestrian malls had been built in North America by 1977 and St. Louis didn't want to be left out of the trend.
Just fourteen years later, in 1991, the mall was nearly dead. Â It had already been this way for a while. Â It had, perhaps, one good year of life.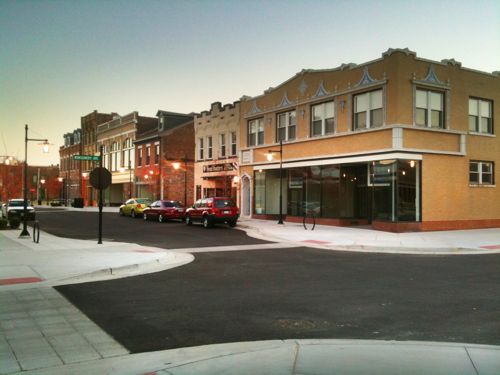 In July a celebration was held to mark the completion of the street but delayed streetlights meant the city wouldn't permit vehicles. Â Prior to the mall the sidewalks were narrow and broken. Â After the mall there was far more sidewalk than pedestrians. Â Today the street offers a balance between pedestrian & motorist. With construction time, North 14th was out of balance for 34 years, a very long time when the failed urban planning experiment prevented organic revitalization of the street.
– Steve Patterson