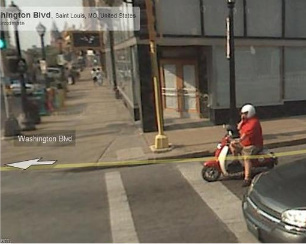 If you love Google maps then you probably love streetview — the ability to see what an actual street looks like.
Friends of mine, planning students from St. Louis living in New Orleans, recently blogged about spotting me on my former Honda Metropolitan scooter in a streetview at Washington & Grand (link).
Thankfully I wasn't over the stop line!  Thank you to Matt Mourning and Michael Powers!  I'll be back on a scooter by Spring 2010.