The Doering Mansion has clearly seen better days. Like thousands of nice but ordinary buildings all over the city this one has been allowed to slowly decay over a period of decades. Sadly, the ordinary building has no champion. We have the Landmarks Association which speaks up when… well… a landmark building is threatened. But we are a city of ordinary buildings. It is the streetscape of ordinary accented by the occasional landmark structure that gives our city its character and appeal. Raze enough of the normal, everyday buildings and the attraction of the city is lost.
My interest in saving the Doering Mansion is not that as a single structure it is historic, although by many standards it is. No, my belief is that we have lost all the ordinary run of the mill buildings we can afford to lose. In some areas, such as parts of North St. Louis and mid-town, we've razed too many buildings to have much appeal at all. Yet, we continue to raze buildings that are individually insignificant in the name of that old standby reason, progress. St. Louis has a preservation review ordinance for a reason, to examine the value of buildings before granting a demolition permit. Later today we'll know the fate of the Doering Mansion.




From the Suburban Journals:
The city's Preservation Board Monday will take up the issue of whether Developer Michael Curran can demolish the historic Doering Mansion on the north side of the 8.2-acre former Good Samaritan Home property at 5200 S. Broadway.
If the Preservation Board doesn't issue Curran a building permit, Curran said he won't develop the 56-unit townhouse project.
"If they don't let me tear it down, the project's done," Curran said. "I'd have to sell the project to somebody who'd do something else."
Curran is employing the tried and true developer tactic of threatening to take his marbles and play elsewhere if we don't go along with his game plan. I'm certain he'll argue that much time and money has been invested in planning the project — too much to stop now. But, today is the first opportunity for the public to have input on the project. Rather than risk months of time and thousands of dollars on planning he should have sought a demolition permit earlier. But, therein lies one of the flaws in the process. If a developer has any reasonable expectation of getting a demolition permit they must indicate what they indent to do and show why it will be an improvement. So, by design, developers are stuck with a big investment in time and money before they know for sure if they can raze a structure. In that time they can become attached to their design concept and unwilling to consider viable alternatives.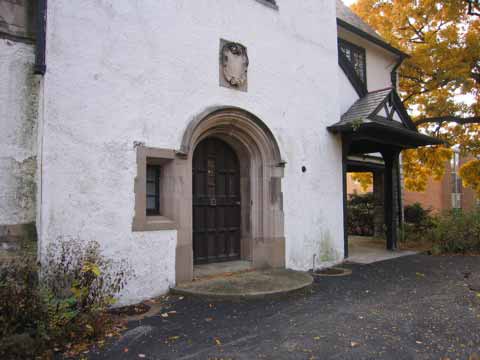 Listing units for sale and beginning the marketing of the new units is not a flaw in the system but a clever strategy for showing support for the new project. Walking into the Preservation Board meeting with pre-sales virtually eliminates the board's concern about the project actually happening after razing a building. It also gets the public attached to the new design. Pressure to reevaluate the design to work with an existing structure is lessoned as time goes on. People throw up their hands and once again say, "It was bound to happen."
The Doering Mansion is located at 5108 S. Broadway on a separate 1.7906 acre parcel of land. This property plus the remaining land totals roughly 8.2 acres according to an article by Jim Merkel of the Suburban Journals. Tax records show the total sale price was $1,650,000 or just over $201,000 per acre. Proportionately the Doering Mansion's 1.7906 acres is worth around $360,300. Even in its current state I think a 4,000 sq ft home on nearly two acres of land with spectacular views only minutes from downtown would sell for upwards of half a million.
Some have suggested the entire property was on the market for a number of years and that if someone wanted to buy the house they had the chance. Technically that is true. Someone with over a million and a half dollars could have purchased the entire property to get the house and then attempted to sell the remaining land and buildings. The mansion and its land have never been offered on the open market.
It would cost him about $900,000 to renovate it, he said. A similar mansion on the bluff sold for $800,000.
"It's a very expensive building to restore," Curran said.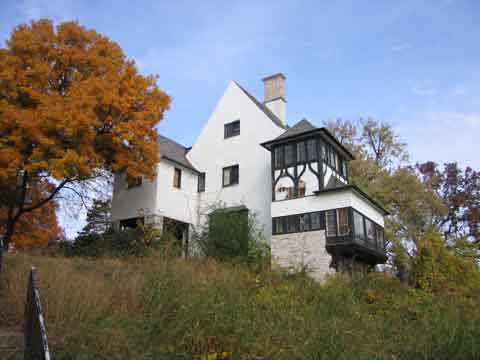 The house next door at 5024 S. Broadway sold in July 2005 for $795,000. Where this argument falls short is that this house was not listed on the St. Louis MLS system either — it was a private sale. It might have fetched a higher price had it been available to the general public. It is also not the best comparison in that it only has 2,476 sq ft and sits on a smaller site (1.35 acres). But assuming Mr. Curran is correct that it would take $900,000 to renovate the home and the land is worth say $400,000 we'd need a sale price of at least $1.3 million. Even at that, it doesn't leave any room for developer profit. This is why the developer should sell the mansion and land to an owner to renovate for their own home. A sale price of $500,000 or so would be a nice return on his investment, saving the cost to raze and remove the structure. This would leave over 6 acres left for a new project.
You see, unlike the Century Building vs. parking garage debate this is not an either or situation. It is hard to say that without razing the mansion the remaining 6+ acres is not developable.
Curran said that keeping the house would mean he would have to reduce the number of townhouses. That would make the project unfeasible.
"The only way you can afford to develop that property and keep the mansion would be to have a four- or five-story condominium building," he said. There would be more than 120 units in such a development, he said.
Curran planned 56 units on 8.2 acres. Keeping his same concept and the mansion would require a reduction down to 42 units, says Curran in the paper. Selling the mansion for half a million still would not make up the difference in the reduction. Curran is being a bit dramatic when he says the only way to make a profit would require a 4-5 story building with 120 units. If he can make a profit from 56 units on 8.2 acres he can make a profit on 56 units on 6+ acres. But I'm starting to like the idea of a 4-5 story building with 120 units. Why is that so bad?
What would be better for the city, 56 new residences or a restored mansion and 120 residences? I'll take the latter thank you very much. This would give us more residents in the city and a restored mansion. It is a win-win.
But it wouldn't need to be 120 units to return a profit. The exact number doesn't matter too much, the real debate is about Curran's low-rise concept vs any alternative that includes the Doering Mansion. Curran is attempting to say his low-rise concept is superior to a 4-5 story building. I disagree. If you look to the South of the site you have two nursing homes, both reasonably new and not going anywhere anytime soon, each in excess of five floors. A very linear low-rise project actually has less to do with the neighbors than a mid-rise building would. To the North of the site is the previously mentioned house at 5024 S. Broadway. North of that is another former single family house that has had an unfortunate addition. North of that is another old mansion with nearly 4,500 sq. ft. This is a pretty consistent row — we should not begin taking it away.
This brings us back to the question of the Preservation Board's decision later today. At this time the Cultural Resources office has not posted the meeting agenda so I do not know what the staff recommendation will be. [Update 11/28 @ 10:30am – here is the agenda.] However, based on my personal experience I'd say they will recommend the application for a demolition permit be denied. The staff has probably denied the application thus far and this hearing will be considered an "appeal of staff decision." If you read the enabling ordinance (#64832) you will see the criteria to be used by the Preservation Board must consider when making a decision. A very relevant section is 5B:
B. Architectural Quality. Structure's architectural merit, uniqueness, and/or historic value shall be evaluated and the structure classified as high merit, merit, qualifying, or noncontributing [emphasis added] based upon: Overall style, era, building type, materials, ornamentation, craftsmanship, site planning, and whether it is the work of a significant architect, engineer, or craftsman; and contribution to the streetscape and neighborhood. Demolition of sound high merit structures shall not be approved by the Office. Demolition of merit or qualifying structures shall not be approved except in unusual circumstances which shall be expressly noted.[emphasis added]
I'll be the first to say the building most likely does not qualify as "high merit" nor is it insignificant enough to be considered a "noncontributing" structure. This leaves merit or qualifying. Given the size and details of the building I'm guessing the staff will rank it as "merit." But what are the unusual circumstances that would warrant razing this structure? None in my view. An interesting design is not unusual nor is a developer grandstanding, saying he'll walk.
Another qualifier to consider is condition:
C. Condition. The Office shall make exterior inspections to determine whether a structure is sound. If a structure or portion thereof proposed to be demolished is obviously not sound, the application for demolition shall be approved except in unusual circumstances which shall be expressly noted. The remaining or salvageable portion(s) of the structure shall be evaluated to determine the extent of reconstruction, rehabilitation or restoration required to obtain a viable structure.
[subsection 1] Sound structures with apparent potential for adaptive reuse, reuse and or resale shall generally not be approved for demolition unless application of criteria in subsections A, D, F and G, four, six and seven indicates demolition is appropriate.
Based on application of the ordinance the Preservation Board should deny the request for demolition: potential does exist for rehab and/or resale of the property, it is at least contributing and I doubt the developer can justify a financial hardship. This ordinance is nothing new. The developer and Alderman had to have known when they started promoting the project. My prediction is the Preservation Board will give in to political pressure and grant the demolition permit. If that happens it will be a sad day for the validity of our Preservation Review ordinance. If the Preservation Board upholds the denial the developer has the right to appeal the decision in court. Conversely, if the Preservation Board allows the demolition a city property owner may appeal the decision in court.
A friend told me recently, "we can't save everything." True enough. But the question about what we do and do not save is a valid subject for open public discussion, not backroom politics. This is not an either or situation — saving the mansion leaves a site bigger than 6 acres that someone will want to develop if Curran backs out. In a rare case we can have our cake and eat it too.
– Steve