Today's blog post is one of those I've been wanting to do for a few years now. The subject is been a pet peeve of mine for at least four decades now.
Previously I've posted about automotive headlights, so today is about taillights. Specifically the varied design of automotive taillights, and how ours differ from the rest of the world.
First we need to review the four components that make up rear light assemblies:
Tail light — the red light that is on when your lights are on.
Brake light — the red light that comes on when you hit the brakes.
Turn signal/indicator — the flashing light to indicate your turn. In combination these are the emergency flashers.
Backup lights — the white lights that come on when you put the car into reverse gear.
Government regulations on these four vary widely in different parts of the world. North America, as you might expect, is out of step with the rest of the world.
To explain my views on taillights I've assigned A-F grades to the various types:
Grade: A
Separate taillight & brake light — the brake light is dark even when the lights are on, when the brakes are pressed a dark space becomes lighted.
Amber turn signal lens — not just an amber bulb behind a clear lens, but an amber lens.
An A+ also has a rear fog light.
Examples I've owned: 1987 Volvo 740 Turbo, 1986 Saab 900S, 1986 Saab 900 Turbo
New:  no new cars have A-grade taillights.
Grade: B
Combined taillight & brake light
Amber turn signal lens
Examples I've owned: 1974 Ford Mustang II, 1975 Mercury Monarch, 1984 Dodge Colt, 1988 Mitsubishi Mirage, 2004 Toyota Corolla, 2000 Volkswagen Golf,
New: none that I can think of
Grade: C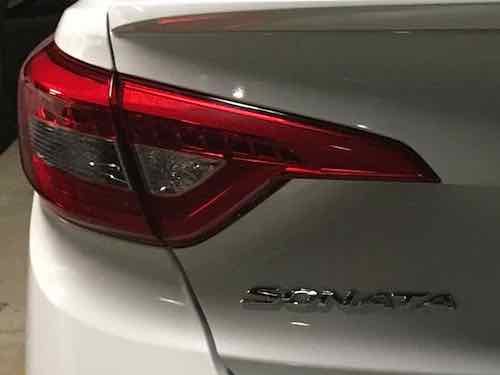 combined taillight & brake light
Clear turn signal lens, amber bulb
Examples I've owned: 2006 Scion xA, 2015 Hyundai Sonata
New: Numerous, but dwindling quickly.
Grade: D
combined taillight & brake light
Separate turn signal, red lens
Examples I've owned:  1999 Audi A4 Avant, 2007 Honda Civic
New: Many
Grade: F
combined taillight, brake light & turn signal
Example: 1979 Ford Fairmont Futura, 1971 Dodge Demon,
New: Most sold today, including Tesla!
As you can see my grading scale gives a higher priority to taillights that give each function its own light independent of the others. Amber for turn signals because a different color next to red brake lights has greater visibility. And we all want our brake lights and turn signals to be seen, right?
Also infuriating are aftermarket taillight assemblies that have less visibility than the factory units. Also, dark smoke taillight covers significantly reduce visibility. Individuals changing their lights say they're doing an "amber delete" on their vehicles. Time & money to make their cars less visible to others — crazy!
One reason I long preferred European cars was their taillights. Very…European. Not anymore, even Volvo & Mercedes are selling new vehicles in North America with D-grade taillights. These same vehicles sold in the rest of the world have significantly better taillights — because regulations in other countries require it!
Thankfully I'm not the only person who feels this way. Here's an excellent 13-minute video of a guy explaining the differences.
Here's more:
Here's the fundamental issue: the US (and Canada, but they're just piggybacking on our regs) is the only place in the world where the rear turn indicator may be red, instead of orange/yellow/amber. Up front, indicators need to cast an amber light to differentiate from the white headlamps, but out rear you can actually just use one red-shining bulb for stop/tail/turn functions, as many cars do — especially trucks and jeeps and other vehicles that use off-the-shelf cheap trailer-type lights. (Jalopnik)
The above cites a couple of the many studies showing separate amber turn signals are best: 1977 Volkswagen & 2009 National Highway Transportation Safety Administration (NHTSA).
U.S. regulations have minimum lit area requirements for turn signals, brake lights, etc. But these standards are from the 1950s!
The minimum size was adopted in the mid-1950s when a Society of Automotive Engineers lighting committee met in Arizona and evaluated cars with different rear lighting configurations. The engineers peered at the cars as they were driven away, then voted on which systems they thought looked okay. There were two reasons for specifying minimum lit area: the lens plastics available in the 1950s weren't very colorfast or heatproof, and requiring a minimum lit area was a way to ensure, without design-restrictive explicit requirements, that the lens would be a minimum distance away from the hot bulb, to stave off fading and cracking. (A Car Place)
Gee, lighting has changed a little in 60+ years.
The U.S. needs to modernize our automotive lighting regulations so closely resemble those in the rest of the world.
— Steve Patterson