Back in April I told you we got a high-tech newer car, a 2015 Hyundai Sonata Limited.  At that point I hadn't driven it much, had only used the adaptive/smart cruise control once. I have more miles behind the wheel now, including a trip to Springfield IL and a visit to the dealer in Wentzville MO. Yesterday we drove  out to Chesterfield for the 31st annual St. Louis European Car Show.
Nearly every manufacturer is now offering similar cruise control, here's an explanation:
Adaptive cruise control uses a small radar (or laser) unit under the front grill or bumper that measures the distance to the vehicle in front of you. Many automakers will actually use two radars—one for close range and a second for vehicles that are farther out. The system uses this information to calculate distance and speed of the vehicle ahead and react to any changes to maintain a safe driving gap.

In the event the vehicle ahead brakes suddenly, the system will either alert the driver or, in some cases, apply the brakes to prevent an accident.

If this all sounds a lot like a self-driving car, that's because it is. Adaptive cruise control is one of the many features that enable self-driving cars to function safely. (Cartelligent) 
This short video explains in a visual manner.
For many people, I think, cruise control is mainly used for long highway trips. I find I'm using our adaptive cruise control on surface streets –especially stop & go traffic. If you're used to regular cruise control you know as soon as you hit the brakes in stop & go traffic it turns itself off.
Our Sonata will bring itself to a complete stop — under the right circumstances. Our 2015 model was the first year of the current generation. Our Limited trim level has both optional packages. Hyundai, for some reason, decided not to include automatic emergency braking. They did for 2016 and newer models.  Instead of automatically braking our car just beeps at you to stop.
However, when the adaptive cruise control is in use and it detects a vehicle ahead it can come ro a complete stop on its own. Again, only under the right circumstances. If I'm following a vehicle that shows up on the cruise control graphic in the center of the gauge cluster and it begins to slow or stop our car will respond appropriately — including coming to a complete stop. It then tells me to hit the "resume" button to begin moving again.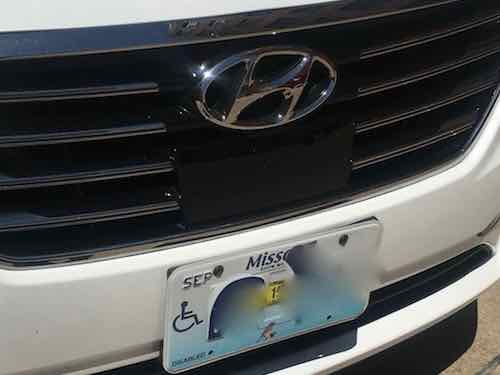 At first I didn't trust the system and I'd tap the brakes to disengage the cruise. Old habits. But with more experience I know now when to let it do its thing. Friday we came home from Overland MO in rush hour traffic. An Eastbound accident on I-64 was causing backups on to I-170. It was 5mph for a few miles, I had the cruise control on the entire time. Most of the time our car kept rolling in pace with the car ahead. A few times it had to stop so I'd hit resume once the cars moved again. Stop & go traffic is one thing I find highly frustrating, but adaptive cruise control makes it stress-free. Well, at least far less stressful.
There have been times we've been in the right lane and slow cars in the exit lane to our right makes ours think it needs to slow down. For the most part, however, it works as advertised. I must still stay alert because there are plenty of circumstances where our car won't stop itself when the cruise its set.
I can defiantly see how technology will get is to improved safety and self-driving cars.
— Steve Patterson