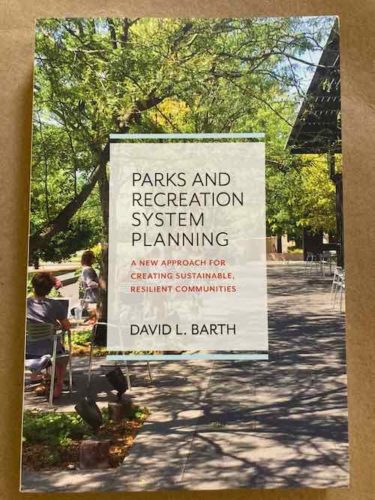 Times have changed considerably in the nearly 75 years since the city released the 1947 Comprehensive Plan, with a section on Public Recreation Facilities. Has our approach kept up with needs of the city, region? A new book is looking to push these forward.
Parks and recreation systems have evolved in remarkable ways over the past two decades. No longer just playgrounds and ballfields, parks and open spaces have become recognized as essential green infrastructure with the potential to contribute to community resiliency and sustainability. To capitalize on this potential, the parks and recreation system planning process must evolve as well. In Parks and Recreation System Planning, David Barth provides a new, step-by-step approach to creating parks systems that generate greater economic, social, and environmental benefits.

Barth first advocates that parks and recreation systems should no longer be regarded as isolated facilities, but as elements of an integrated public realm. Each space should be designed to generate multiple community benefits. Next, he presents a new approach for parks and recreation planning that is integrated into community-wide issues. Chapters outline each step—evaluating existing systems, implementing a carefully crafted plan, and more—necessary for creating a successful, adaptable system. Throughout the book, he describes initiatives that are creating more resilient, sustainable, and engaging parks and recreation facilities, drawing from his experience consulting in more than 100 communities across the U.S.

Parks and Recreation System Planning meets the critical need to provide an up-to-date, comprehensive approach for planning parks and recreation systems across the country. This is essential reading for every parks and recreation professional, design professional, and public official who wants their community to thrive. (Island Press)
This book is for design professionals, bureaucrats , elected officials, and community leaders involved in parks and recreation systems. The contents shows the level of detail:
Introduction: A Framework for Community Sustainability and Resiliency
Part I: Generating Multiple Benefits
Chapter 1. Parks and the Public Realm
Chapter 2. Multiple Dimensions of Parks and Recreation Systems
Chapter 3. High-Performance Public Spaces
Part II: Planning a Comprehensive Approach
Chapter 4. A New Approach to Parks and Recreation System Planning
Chapter 5. Initiating and Planning the PRSMP Process
Chapter 6. The Preliminary Implementation Framework
Part III: Executing the New Approach
Chapter 7. Existing Conditions Analysis
Chapter 8. The Needs Assessment
Chapter 9. Level-of-Service Alternatives
Chapter 10. Developing a Long-Range Vision
Chapter 11. Implementation Strategy
Conclusion: The Power of Parks and Recreation System Planning
You can read a preview at Google Books here, it can be ordered directly from Island Press, locally independent bookstore Left Bank, or that online store. Note: I don't make anything from these links, just trying to be helpful.
— Steve Patterson