When our light rail line, MetroLink, opened in July 1993 the Central West End (CWE) station was one of the original.  This was prior to the city vacating Euclid Ave. for vehicular travel. For the next 13 years the station operated with two separate platforms — one for eastbound and one for westbound — with the tracks in the center,
In August 2006 the new Blue Line opened further west.  But the CWE station had been rebuilt from two platforms to one center platform. This reduced elevators from two to one.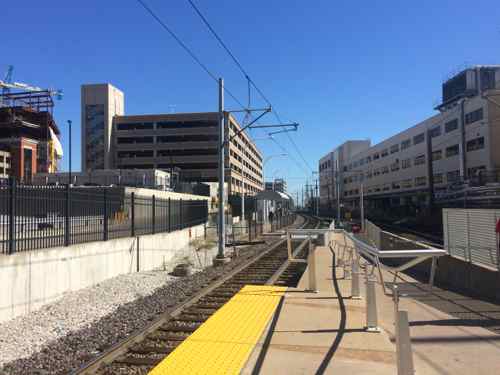 The station, the busiest in the system, remain largely unchanged until last year when the platform was extended in length. The trains aren't any longer, but the eastbound trains now stop further east from the stair/elevator. This was done to reduce pedestrian congestion.
So what's changing? From Metro's December 20th press release:
Station Redesign Details:

New, monitored entrance/exit at the street level from Euclid Avenue on the west end of the station featuring a welcome center at the top of the stairs that lead down to the MetroLink platform
A new, wider staircase with a center handrail connecting the new Euclid Avenue entrance/exit to the platform to better accommodate passengers
Relocating the elevator on the station platform to relieve congestion
New, upgraded platform lighting
An expanded canopy to cover 70% of the MetroLink platform. The current canopy covers 30% of the MetroLink platform.
Safety improvements including a speed bump, stop sign, and new lighting at the entry to the MetroBus area of the garage which connects to the east entrance/exit of the platform.
Construction begins today, the elevator will be closed starting Thursday (12/26/19). When the station was reconfigured in 2006 they should've made the platform wider. Hopefully the new station will have a substantially larger elevator — and that a wheelchair user waiting for the elevator won't block others.
Obviously during the construction those of us that need the elevator will have to use the east end of the platform and enter/exit via the CWE MetroBus Transit Center. Metro's release indicates other closures may happen throughout the project but that advance notice will be given.  Unfortunately, they did not indicate how long this project will last.
— Steve Patterson