As I outlined two years ago, the blocks around new Centene Stadium will most certainly change in the coming years, decades. We've already seen some buildings on Olive be razed for the stadium, and more for a new garage. These weren't architectural masterpieces, but they were urban. Hopefully it'll be a good trade off.
One building I want to see razed, or significantly altered, is the hotel at 2211 Market Street (2.78 acres). Currently it's officially known as the "Pear Tree Inn Near Union Station." With the new major league soccer stadium nearing completion next door I think they'll rename the hotel to reflect the ideal proximity. I'd like to bigger change — a complete rethink.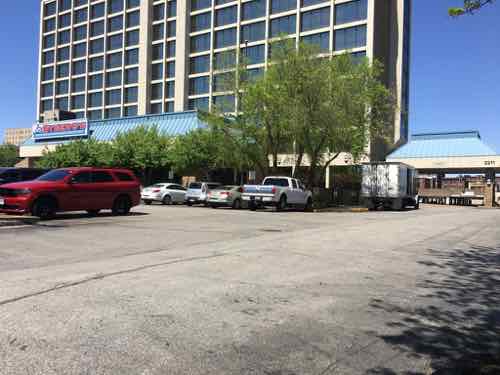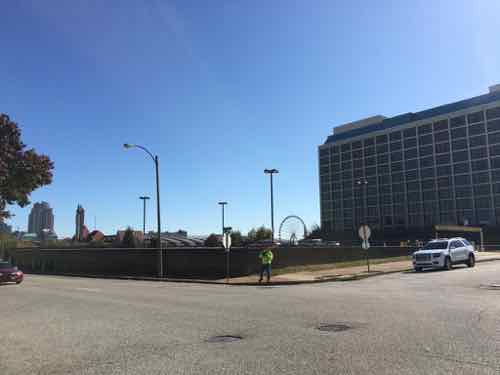 One of the first things I like to do is look back at what existed before — especially streets & alleys. Not that I'd necessarily want to recreate what existed over a hundred years ago, I just find it helpful.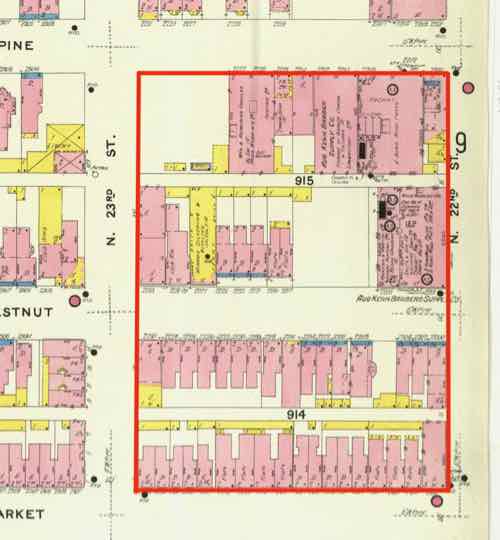 Interestingly, the little bit of land between the east side of the hotel and the new 22nd Street is deeded in several small parcels, at least one to TKFC Properties, LLC in Moscow Mills, MO. The accessor classifies it as "9900 (OTHER UNDEVELOPED LAND AND WATER AREAS, NEC)", so perhaps it'll collect runoff water. Seems too valuable for water retention.
I strongly dislike this hotel and parking garage. I suspect the owner, Drury Hotels, is contemplating their options now that their real estate has a prime spot near the MLS stadium, and a higher valuation. The big question is what are the various ways to rebuild or start over?
I believe in reusing existing structures, so the first option would be to look at adding a new tower perpendicular to the existing one so hotel rooms on the east side could look toward the stadium and downtown. The roof of a new tower could contain a rooftop restaurant/bar with outstanding views. A new urban entrance facing Market, 22nd, or Pine. Some sort of drive though for check in that doesn't block the many pedestrians that will soon be in this area.  Parking will need to go somewhere, preferably underground.
Other options involve razing the tower and garage, completely starting over from scratch. If they get the little bit of land between the existing lot and 22nd Street the site will be bordered by four streets — it needs to acknowledge all of them.
Reconstructing Chestnut Street needs to be considered. Chestnut still exists between 23rd and Jefferson Ave. so this would help reconnect the original street grid. We would then have two parcels, with the north larger than the south.  Perhaps a parking garage in the center of the larger parcel, wrapped in hotel rooms, apartments, and/or offices? The new block of Chestnut might be a full public street, a public walkway, or a private walkway that's generally open to the public. I can see a Chestnut walkway being filled with outdoor dining, a new building(s) on the south side blocking the hot sun.
I'm confident this site will look dramatically different within a decade, just not sure how it'll look. If I'm still around when something happens I'll be sure to post about it.
— Steve Patterson