Office vacancy rates are high now, especially in downtown St. Louis.
Office vacancy is up across the metro area, averaging 16.9% in the second quarter of 2021 compared with 11.8% in 2020. Rents for offices outside of downtown declined nearly 4% from the end of 2020 through the second quarter of 2021, according to commercial real estate firm Cushman & Wakefield.

Vacancy downtown has risen more than 1 percentage point in the past year, to 20.8% from 19.3% in the second quarter of 2020. And rents have fallen by more than 1% to $19.48 per square foot. (Post-Dispatch)
One downtown office tower, recently acquired by a local fund, is taking steps to reverse years of increased vacancy.
Readers might recall my December 2015 blog post on this building. In that post I suggested connecting the low pavilion portion to the adjacent sidewalks, orienting the interior space to take advantage of the location and views.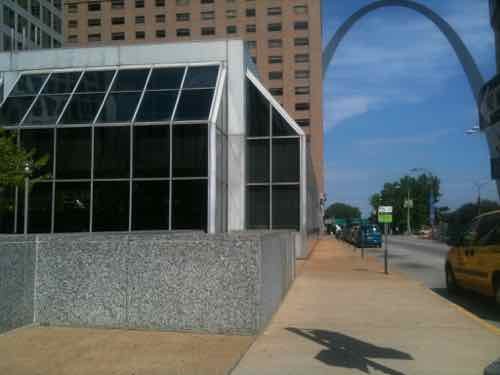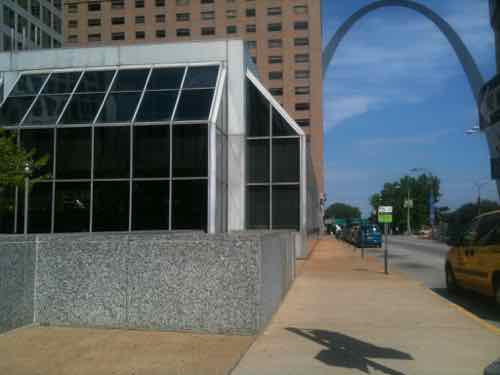 I sent the then building owner, a San Diego-based capital firm, my post at the end of 2015. They responded the next month, I met a local property manager on site. They sent me a nice fruit basket from Harry & David.  They didn't do anything.
According to KSDK more tenants left, the California owner defaulted, and by February 2019 the lender had taken over the property.  A new local owner purchased the tower and apparently recognized the need for major updates to the prominent pavilion, inside & out.
The new owners logically hired one of the remaining tenants to update the interior & exterior:
Larson Capital Management has engaged Trivers to make both interior and exterior building improvements to the 2-story atrium structure and surrounding plazas and streetscape to comprehensively update and reposition the Broadway Tower as a premier office building destination in downtown Saint Louis.

Exterior improvements include removing the "greenhouses" and reimagining the Atrium façade materiality and line of enclosure, updated entrances and entry canopies, surrounding site improvements and landscaping, and public art and placemaking components creating public outdoor destinations.

Interior improvements are geared toward creating an abundance of tenant amenities including a best-in-class conferencing center, co-working lounges with hospitality support, a walking track, and access to outdoor work spaces. The Atrium will also include a new café with indoor/outdoor seating connected to the west plaza along Broadway, a new monumental stair, a large greenwall, building management offices, new security desk and updated elevator lobbies, restrooms to support the proposed uses, and comprehensive lighting, casework, and finishes upgrades. (Trivers Architects)
In 2015 I imagined a few restaurants to fill the space, but tenant amenity space will be critical to filling vacancies. There will be one cafe, on the corner shown above.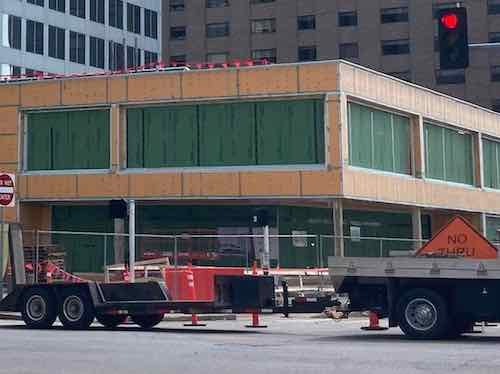 I'm looking forward to seeing the finished product, experiencing the revised plazas, eating at the cafe. The upper level features a covered outdoor space on the opposite corner, facing the Arch. Not sure if that will be public or tenant-only. Either way, to pedestrians at 4th & Chestnut it'll be perceived as inviting.
— Steve Patterson