Tuesday's post (Metro Makes Long-Needed Changes at 18th & Clark, Still Violates ADA) listed the many MetroBus route changes effective March 14th, one of which was the #99 Downtown Trolley. As mentioned in a July 2014 post, the Trolley will reach Union Station — and well-beyiond, as it turns out.
First, some history…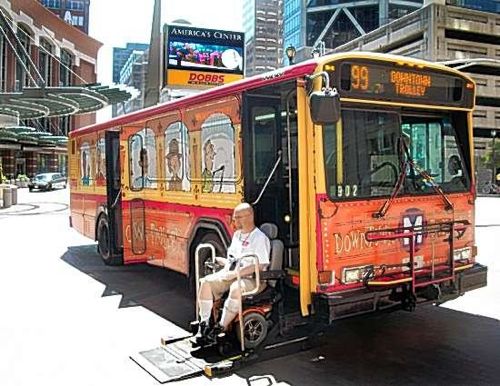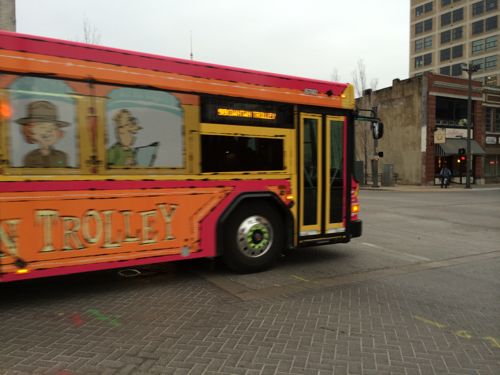 The route — until March 14th — had a loop at each end: City Museum and Civic Center MetroBus Center. Mostly in Downtown, a little in Downtown West (West of Tucker).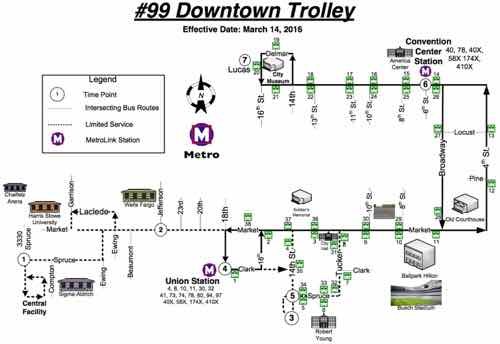 As you can see, it'll now turn around at 18th & Clark, with some turn arounds still at Civic Center. The main difference is going much farther West on Market Street into Midtown. This will connect more businesses with the Central Business District (CBD). It'll also show how bad this area is for pedestrians trying to use public transit — see Harris-Stowe State University Campus Disconnected From Adjacent City.
I personally would like to see the trolley not do the 14th/Delmar/16th loop around City Museum — but continue on Washington Ave to 18th or 20th — to reach Market. This would better serve Downtown West, a stronger connection with the CBD.  Rather than them turning around on each end half would go clockwise, half counter-clockwise.
Looking forward to riding the new route, checking out the new stops.
— Steve Patterson
b
b
b
b
b
b
b