In the 21+ years I've been in St. Louis I've watched Harris-Stowe State Universitygo through name changes and a major expansion of their campus.
This was done under the leadership of university president Dr. Henry Givens Jr., now retired:
Givens managed to grab the LaClede Town housing project land – valued at roughly $17 million – for $10 after the federal government shut it down and turned it over to the city in the 1990s. His hard work and relentless political negotiating got him the old Vashon Community Center and three surrounding acres for another $10. The historically black college for teachers kept adding buildings – along with students and degree programs – and eventually earned full-fledge university status in 2005. (West End Word)
In 2006 Harris Stowe added their first dormitory.
In August of last year they opened a second  residence hall:
Harris-Stowe State University celebrated the opening of its second residence hall and new student dining facility on Friday, August 12. The university named the recently completed 65,000-square-foot, four-story structure in honor of attorney Freeman R. Bosley Jr., the first African-American mayor of the City of St. Louis and long-time advocate of the university and its mission. (St. Louis American)
Combined the two residence halls house 428 students.
With two residence halls and more and more academic buildings just south of the emerging Midtown Alleydistrict:
Boutique hotels and trendy restaurants today are sprinkled among [marketing] agencies with names like "Scorch," "Four Alarm" and "Spoke." The development makes it difficult to envision that barely ten years have passed since the Thoelkes brought their shop specializing in cultural events and institutions to Midtown. (STLtoday.com)
What an exciting environment to have adjacent to a college campus! The closest establishment to campus is the hugely popular Pappy's Smokehouse but also close is The Good Pie, The Fountain on Locust and opening this coming Saturday, Hamburger Mary's. The students must walk to Midtown Alley all the time. Well, I'm sure they would  if they could.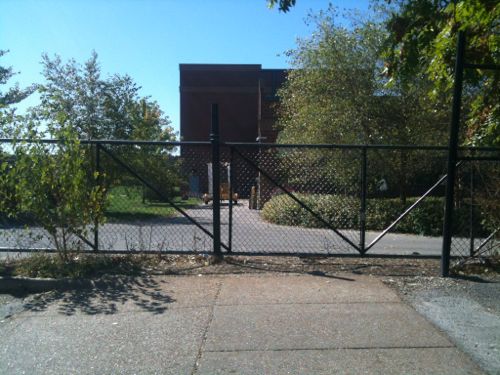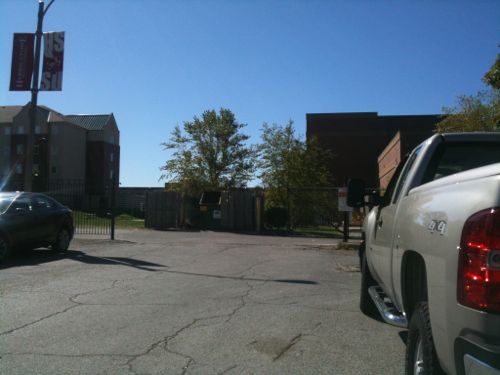 To be fair to Harris-Stowe, when they acquired the LaClede Town land the area now known as Midtown Alley had yet to begin developing. In planning their campus they used the same failed logic as Saint Louis University — the area outside of the campus border has nothing now nor will it ever so it's best we just turn out backs and keep the students safe from the big bad world.
TOKY Branding + Design opened on Olive just east of Compton in 2002.  Two years later the Emerson Performance Center (lower left, above) opened permanently blocking access to Cardinal Ave and Olive St.  Just reaching the bus stops at that intersection is a challenge for students.
b
b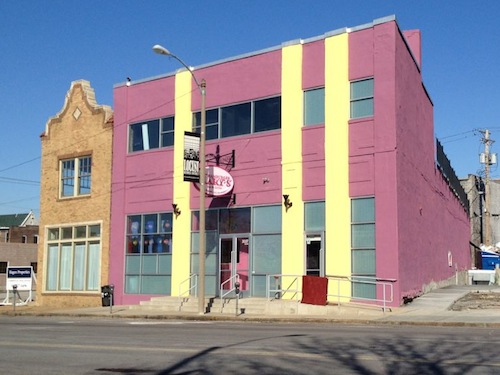 Hamburger Mary's will likely draw huge crowds starting Saturday. I'm afraid students or others will get hurt trying to cross Olive St at Cardinal Ave to reach the new bar & grill. A strong campus connection at Cardinal Ave would have made pedestrian signals at Olive easier to justify. I cross at Compton Ave but I doubt others will go out of their way to do so.
Like Saint Louis University to the east, Harris-Stowe State University has very nice buildings, green grass and an orderly campus. Both fail at connecting to the city. – Steve Patterson