This post is the final in a series looking at potential development sites along the proposed initial route of the St. Louis Streetcar.  Previously I reviewed:
I saved the downtown CBD (Central Business District) for last. You may think downtown is done but I found lots of opportunities for additional development.
Coming east into downtown from the west the lines will be in the center of Olive Street. East of 14th the line goes to a single eastbound track to 6th Street, turning right (south) onto 6th, right (west) onto Chestnut St/Kiener Plaza, right (north) onto 7th, left (West) onto Locust to 14th. There are many areas not directly served by this compact loop, but it gets riders within 2-3 blocks of many places of employment/interest.
Ok, let's start at 14th and Olive and do the loop and end up on the other side of the library at 14th & Locust.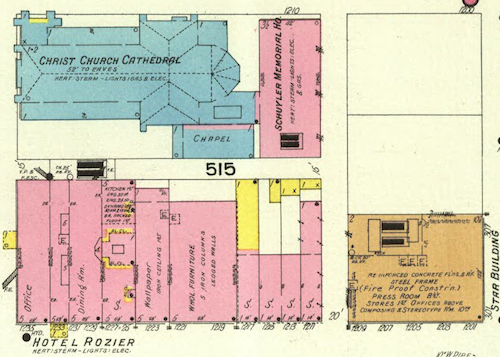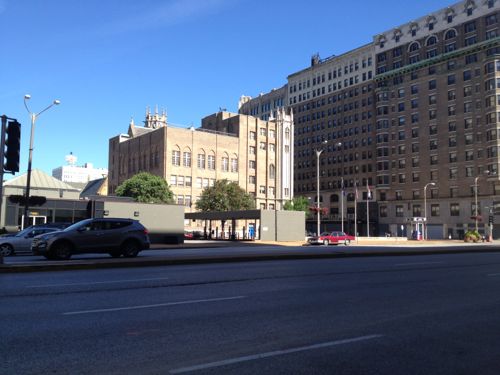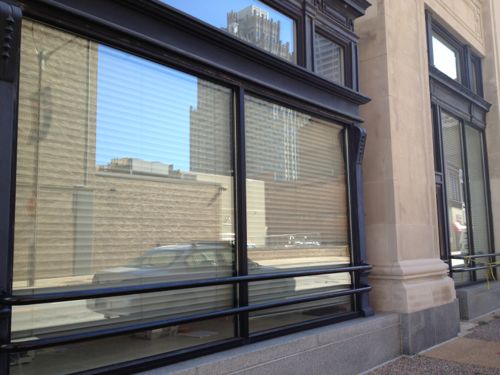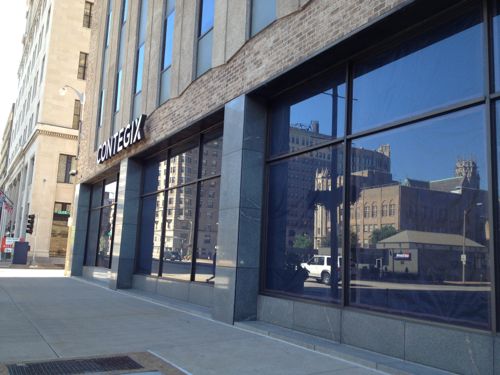 Let me stop the flow of images briefly to talk more about this corner. Looks final, right? Drive to underground garage, stairs up to grade? Parking for commercial tenants and even a couple of lofts? You're thinking there is no way this going to ever change. Seeing how it was built made me inquire with Louderman developer & resident Craig Heller of Loftworks, here's his response:
Our plan has always been to build on that lot – parking for Louderman has been built under the lot. When it was built we sank piers to bedrock so that we build a new structure on top.
I had spotted the top of the piers. Folks, this is how you plan ahead! This was done 8-10 years ago and it may well be another 8-10 years before Heller can build on the corner. But when market conditions are right he'll be able to see a handsome return on the cost of those piers. In the meantime, this would be a good corner for a food cart vendor with a few tables, chairs, umbrellas, etc. Ok, back to the streetcar route…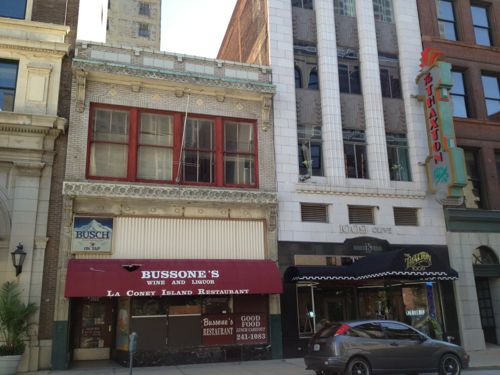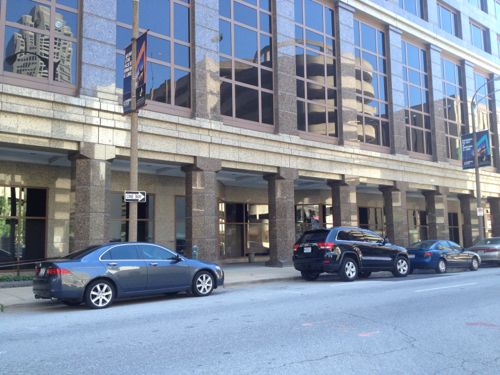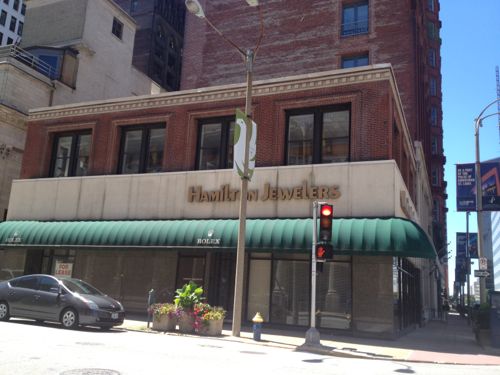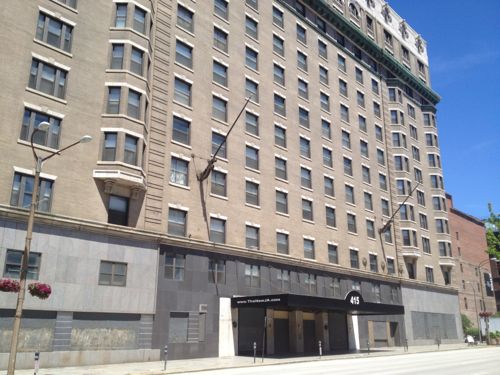 As you can see there are many opportunities along this route to re-urbanize and densify. Many more opportunities exist 1-4 blocks away from the route.
Here are two sentiments I've heard from readers recently:
"The streetcar should go down Washington Ave."
"It would be nice if the activity on Washington Ave. would expand to other streets."
If we'd put all our eggs into the Washington Ave basket we'd still wish years later the activity would reach other streets. By running the streetcar one and two blocks south of Washington Ave we'll be expanding the activity while making it easier to get people to their Washington Ave places, like Mosaic.
Tomorrow we look at the entrepreneurial activity taking place on the 12th & 13th floors of the Railway Exchange building.
— Steve Patterson