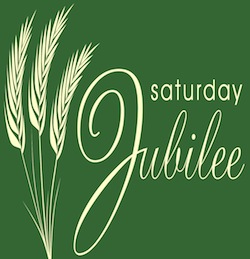 A week from today, Saturday July 30, 2011, is Saturday Jubilee:
"Together we can help area families through the toughest economic times we have known. We have the opportunity to be the change we are seeking. In an area of plenty, let us show our gratitude by giving back."
Non-perishable food items will be collected (9am-5pm) at numerous grocery stores throughout the St. Louis region. Food collected at four stores will go directly to The Bridge St. Louis, which serves thousands of meals per month to the homeless.
I will be volunteering at Schnuck's Culinaria (315 N. 9th Street  63101) from 9am-11am. The other three locations benefitting The Bridge are:
Again, the drive is from 9am-5pm. Please plan to grocery shop that day, purchasing just one or two items on the provided list will be very helpful.
In the month of June The Bridge:
Served 12,741 meals to 5,700 persons
Provided mail service to 1,627 persons
Had 271 volunteers provide 870 service hours.
That's a lot of food! You can follow The Bridge on Facebook & Twitter.
– Steve Patterson