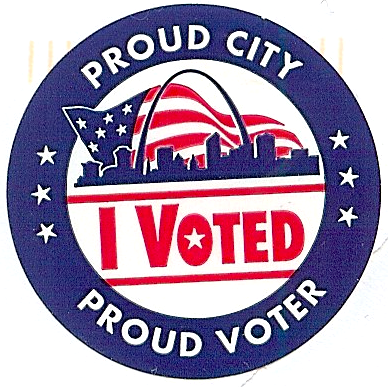 Seven states, including Missouri, will hold primary elections on Tuesday August 2, 2022 — just four weeks from today. My goal in this post is to make you aware  of all items on your ballot, not just the high-profile U.S. Senate race.
First, with redistricting and ward reduction from 28 to 14 it's very likely you're ward and precinct numbers are different than they were on the previous election. I've been in the 5th for a decade, now it's the 14th!
City voters have two propositions on their ballots:
PROPOSITION S
Shall The Board of Education of the City of St. Louis borrow money in the amount of One Hundred Sixty Million Dollars ($160,000,000) for the purpose of acquiring, constructing, renovating, repairing, improving, furnishing and equipping school sites, buildings and related facilities in the District, including but not limited to (1) removing lead paint, fencing and other hazardous materials at affected schools, (2) upgrading mechanical systems to include replacement of outdated or obsolete equipment, temperature controls, and duct cleaning to increase ventilation, (3) upgrading building infrastructure by replacing roofs, tuck-pointing, waterproofing and window replacements, (4) improving security systems to increase student safety by installing fire alarm systems and replacing interior and exterior doors, (5) upgrading technology to modernize classrooms and improve academic performance, (6) improving building conditions by renovating restrooms and other ADA improvements, and (7) increasing learning opportunities by creating outdoor learning spaces and making improvements to playgrounds and athletic fields and facilities, and issue general obligation bonds for the payment thereof?

If this proposition is approved, the adjusted debt service levy of the school district is estimated to remain unchanged at the current rate of $0.6211 per one hundred dollars assessed valuation of real and personal property.

YES – FOR THE PROPOSITION
NO – AGAINST THE PROPOSITION 
And…
PROPOSITION F
Shall Section 24 of Article IV of the City's Charter be changed to increase the maximum fine for violations of City ordinances regarding preservation and protection of environmental conditions for preventing harm to the health, safety, and comfort of City residents or harm to private or public property such as unauthorized dumping of waste or debris on private or public property, prohibited refuse, waste tire disposal, and the like from $500.00 to $1,000.00?

YES – FOR THE PROPOSITION
NO – AGAINST THE PROPOSITION
The only contested citywide county office in the primary is two candidates running for Recorder of Deeds on the Green Party. Republican, Democratic, and Libertarian ballots all have only one candidate each for Collector of Revenue, License Collector, and Recorder of Deeds.
However, voters in the current 21st ward will also vote to select an alderperson to fill the vacant seat. Four candidates are running: Laura Keys (D), Joann Dyson Williams (I),  Melinda L. Long (I), and Ebony Moore (I). See official list of candidates here.
St. Louis County has three propositions on their ballots: A, M, and V  — see the full language linked on the county ballot page, here. You can also enter your address for your specific ballot.
There are no statewide propositions on our August primary ballot, but there will be quite a few on our general election ballot in November.
Elections for the state house and state Auditor are pretty boring, most in the St. Louis area unchallenged. Republican voters will need to select one of two candidates for state auditor.
In Missouri's first congressional district it's more interesting. Three republicans want the GOP nomination. On the democratic ballot incumbent Cori Bush has four primary opponents! (Cori has my vote)
The big race in Missouri this year is to fill the U.S. Senate seat held by retiring senator Roy Blunt (R). Anytime you have an open seat with no incumbent a lot of candidates toss their hats into the ring.
The republican ballot has 21 candidates, yes 21! Many of dropped out or been disqualified, but still. Former governor Eric "RINO hunter" Greitens is currently leading in the polls.
The democratic ballot has 11 hopefuls that want to flip the seat from red to blue. I'm actually Facebook friends with one of the 11, but I'm not sure how I'll vote — I've got to decide before my absentee ballot arrives. Lucas Kunce is the most likely democratic nominee.
It's very likely the Republican and Democratic nominees will face at least one independent challenger in November. One potential outcome is a conservative-minded independent splitting the vote, helping the democratic nominee get elected.
Further reading:
League of Women Voters of St. Louis
The primary is Tuesday August 2, 2022.
— Steve Patterson