When I was a kid a 1970s filling (gas) station was a small corner location with a few pumps and a small interior. Inside they might have a vending machine or two. They also did some automotive work, like tire repairs, in the shop portion of the building. Restrooms were often small and accessed from the outside. Fuel was their primary revenue source.  The closest was a 2-canopy Phillips 66 "gull wing" design — similar to the single canopy one at Page & Vandeventer.
Small convenience stores also existed, and some sold fuel.
At some point (80s?) gas stations and convenience stores merged. It was 1982 when Buck-ee's opened its first convenience store/gas station in Clute Texas (near Houston), followed by others. These were typical suburban filling stations for the day, significantly smaller than today's QuikTrip.
In the years since these new gas/convenience hybrids became bigger and nicer, the number of fuel pumps has steadily increased. What was once a small corner lot is now multiple acres.
In 2001 Buc-ee's owners decided to go big instead of incremental growth — opening their first mega location along I-10 near Luling TX (map). It's a stop between San Antonio and Houston, in the middle of nowhere. Even now the only other thing at this exit is a Love's Travel Stop and a couple of hotels, all on the other side of the interstate. Sheer size was the gimmick. Rather than have multiple separate locations along the interstate they put all those fuel pumps, food, restrooms, employees, etc into one big location. It was a brilliant idea — great for marketing, simplifies logistics, etc.
During the last two decades others have replicated their logo and/or concept.
In recent years, during the company's rapidly growing success, Buc-ee's has filed numerous lawsuits against other convenience store chains, most of them based in Texas, for trademark and trade dress infringement.

In 2014, Buc-ee's filed a lawsuit against Texas based convenience store chain "Frio Beaver". Frio Beaver, a company with a logo also depicting a beaver in a yellow circle with a black outline, was accused of copying the iconic Buc-ee's beaver head logo, which the company is widely known for in Texas.

In 2016, Buc-ee's sued "Choke Canyon BBQ", another Texas convenience store, for copyright infringement and trade dressing. Choke Canyon uses a logo of a grinning alligator in the middle of a yellow circle, which Buc-ee's claims is an attempt by the chain to resemble the Buc-ee's logo. Choke Canyon is also calling their new stores "Bucky's".

In 2017, Buc-ee's again filed a lawsuit for breaking an agreement, this time against a Nebraska-based convenience store chain known as "Bucky's". The two companies had agreed to remain in their respective states and expand only to states where the other did not operate.

There was also a non-logo related lawsuit filed in 2013 against "Chicks", a convenience store located in Bryan, Texas, for trade dressing by allegedly copying Buc-ee's mega convenience store designs and layout. The case was settled out of court.
Wally's opened its first Buc-ee's style mega-convenience store/filling station in Pontiac IL in 2020 (map). I checked, it's inside the city limits. Barely.  Their logo would never be confused with Buc-ee's, so they're safe there.  Since Buc-ee's doesn't have a Missouri or Illinois location (yet) Wally's is likely safe from a trade dress lawsuit.
The new Wally's in suburban Fenton MO is their second location. They're looking to expand, interested in sites 2-8 acres in size.
Likes:
Clean.
Cheese pizza slice was good.
Nice seeing food prepared on site.
Friendly employees.
Contactless payments accepted inside and at fuel pumps.
Dislikes:
Excessive impervious paving.
No solar.
No trees.
No seating, inside or out.
Long walk to restrooms.
Higher fuel prices than most others in zip code.
Higher food, beverage prices.
Number of disabled/accessible parking spaces seems too few.
A few ADA violations.
Let's take a look: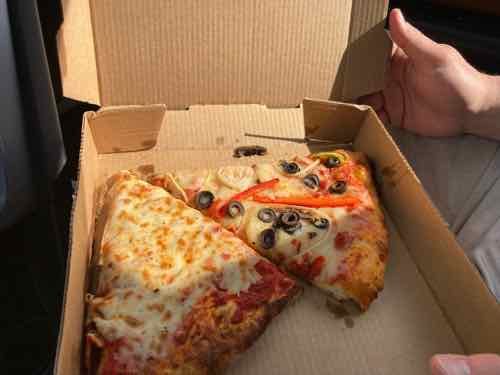 I don't fault the owners or patrons of Wally's, it is certainly of the current times.  Thankfully I don't think we'll see too many of these in the future. The typical big gas station (looking at you QT) is bad enough.
We shouldn't even be building any new gas stations at this point.
— Steve Patterson