You may have heard about a press conference last week at St. Louis' Chain of Rocks water treatment  facility.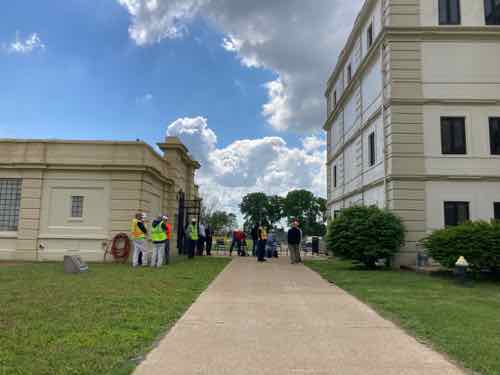 St. Louis and Environmental Protection Agency officials are calling for the passage of President Joe Biden's jobs plan to help update the city's water treatment system to continue to provide safe drinking water.

EPA officials and regional leaders toured the Chain of Rocks water treatment facility Wednesday. Officials have identified more than $400 million in upgrades necessary to renovate the city's water treatment system to maintain clean drinking water. Biden's American Jobs Plan includes $111 billion in water infrastructure upgrades across the country. (St. Louis Public Radio).
Other sources on the event: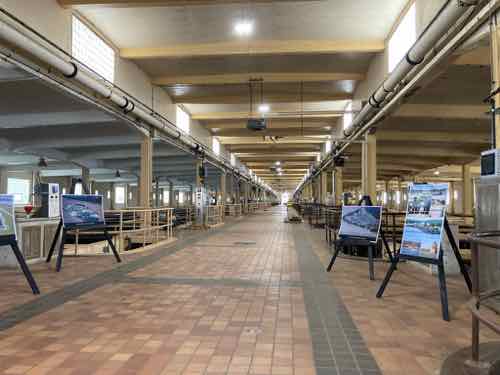 This is where I'd planned to go off on some tangents, but since I started this post something related happened. A water main break in Downtown West that impacted the following neighborhoods: Downtown (central business district), Downtown West, Columbus Square, Carr Square, St. Louis Place (and NGA West site), and Old North St. Louis.
A 36-inch water main burst just west of downtown Tuesday, sending water gushing along Lucas Avenue and North Tucker Boulevard. The flooding swamped basements, shut down businesses and triggered a boil advisory. (St. Louis Post-Dispatch)
We were just slightly inconvenienced, but many lost work, customers, had serious property damage. St. Louis needs the American Jobs Plan to update our water system.
Ok, back to where I was in my post before Tuesday's water main break.
Like all of Biden's cabinet/cabinet-level they're all fairly new to their positions. The new head of the Environmental Protection Agency (EPA) has great credentials, Michael Regan's nomination was supported by environmental activists.
"Regan, who will be the first black man to run the EPA, tells Rolling Stone that rebuilding the agency is his first priority. "We have world-renowned experts at EPA," he says. "We should be listening to them, and we will." With the Biden administration vowing to use every bit of executive power to tackle climate change, a revitalized EPA will be at the center of its ambitious targets to reduce emissions. "I will be laser-focused on how we limit methane emissions," Regan says of the potent greenhouse gas released in natural-gas operations. He lists environmental justice and water quality as his other priorities, but guiding his approach on all of these ambitions is the belief that what's good for the planet can also be good for workers and for business — a conviction Biden shares. "All of those priorities that I just laid out will be good for people, the planet, and profit," Regan says. His personal philosophy is one "of trying to meet people where they are, understand everyone's challenges, whether it's an individual or a company, and then think through, 'How do you get to the solution in a way that can possibly work?'?"" (Rolling Stone)
In addition to hearing Regan I hadn't seen Mayor Tishaura Jones or Rep Cori Bush since their election victories.  I've also known Jones' public information officer, Nick Dunne, for years. Finally, I was very curious just to see the water treatment facility.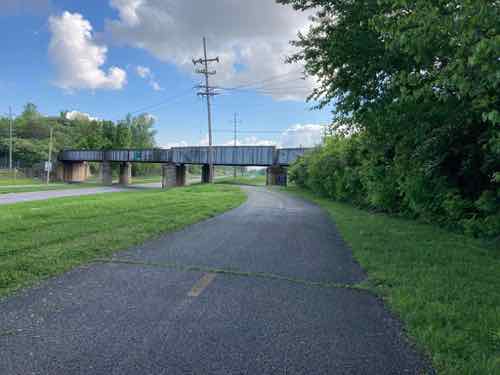 Initially I told the EPA person in DC I wouldn't be able to attend because it was too far from public transit. The night before I thought perhaps I could take the bus up north and then use the North Riverfront Trail to reach the Chain of Rocks Water Treatment facility on Riverview. I knew the biggest challenge would be trying to cross Riverview. After studying Google street view I was able to find a route that might work, I wouldn't know until I got there.
I traveled by wheelchair roughly 5.5 miles round trip, mostly on the trail. It was gorgeous out Wednesday last week so I enjoyed the time, reminded me of when I used to bike the trail before my 2008 stroke.
I was so glad to see the water treatment facility and hear officials talk about investing in needed maintenance and environmental justice.
— Steve Patterson