My previous post was on the subject of BEVs — battery electric vehicles —- was the realization the used car we will purchase in a couple of years can't be a BEV because we rent and can't charge at our apartment. Even though we won't own a BEV I'll still be able to ride in one…on the #70 bus route.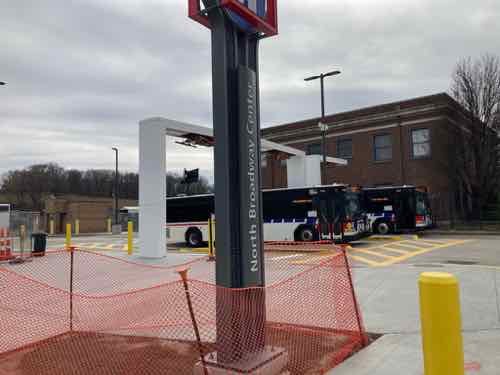 From September 2020:
Metro Transit announced Tuesday a deal with Minnesota-based New Flyer of America to add 14 zero-emission buses to the city's fleet.

The new buses stretch 60 feet long and come with a price tag of $1.33 million each. Eighty percent of the cost will be covered by grants from the Federal Transit Administration, said Jessica Mefford-Miller, executive director of Metro Transit.

The regional transit agency has been considering adding electric battery-powered vehicles to its fleet for more than a decade, Mefford-Miller said. (St. Louis Public Radio)
Here's some additional detail:
The 60-foot battery electric buses have 320 kilowatts of battery storage on each bus. That is enough power to support about 10 2,000-square-foot houses for an entire day. They will operate exclusively on the #70 MetroBus route, which is Metro's busiest route and carries about 10 percent of Metro's customers on a daily basis. (Metro's NextStop blog)
For comparison a Chevy Bolt EV has a 66kWh battery, the biggest Tesla battery is 100kWh.
After reading numerous articles about the new electric buses but I still had questions, so I asked Patti Beck, Metro's director of communications, to answer them.
Q:   Why are the buses for use on Grand going to be stored/charged at Brentwood instead of Central?  My guess is not enough room at Central. Or was power supply better at Brentwood? Are the current articulated buses operated out of Central or Brentwood?
A: MetroBus operates out of three facilities- Brentwood, near Manchester and Brentwood; DeBaliviere, at Delmar and DeBaliviere; and our Illinois MetroBus Facility. Metro chose the Brentwood MetroBus Facility as our first battery electric operating facility because of its more advantageous location and power rate. Ameren Missouri, in partnership with Bi-State Development, constructed an electrical substation adjacent to the Brentwood facility that will provide power supply to Metro's battery electric fleet, as well as the surrounding community.
Comment: The Central facility is very close to Grand, but it's small. This is the location for Call-A-Ride buses, but not 40 foot or larger buses.
Q: As I recall the current articulated buses are from Gillig. Will having new articulated buses from New Flyer be a problem in terms of maintenance, parts, etc?  Does Gillig not offer an electric articulated bus?
A: The existing 60' articulated buses will all be retired in 2021. Gillig does not yet offer a battery electric 60' bus. They do produce battery electric 40' buses, and we have purchased four Gillig 40' electric buses that will become part of our battery electric fleet.
Comment: the existing articulated buses were bought used and refurbished, began operation in June 2014.
Q: I see buses will recharge at Broadway & Taylor. How many will recharge at a time? How long will they need to recharge?
There will be 3 active 450kWh chargers at Broadway & Taylor. A pantograph from the charger lowers to rails on top of the bus to deliver the charge. To maintain continuous operation of the #70 Grand, two chargers must be used to maintain an effective charge throughout the day. The third charger is a backup when one charger needs maintenance or if there is a component failure.
4.    What type of charging connector do buses use?
There are 22 150 kWh charging dispensers at the Brentwood MetroBus facility. These use a heavy duty plug type CCS type 1 built to the SAE J1772 standard. The depot chargers will "top" off the articulated buses at night and be the sole source of charge for the 40' Gillig buses stationed there.
Comment: this is faster than even Tesla's superchargers.
The North Broadway transit center will be an important part of the hopeful success of battery electric bus service.  Some other cities have had problems, Albuquerque returned 13 electric buses to the Chinese manufacturer and ordered diesel replacements for a BRT line.  Other cities didn't build field charging locations like the North Broadway transit center.
My follow up questions were not answered. I'm still curious how different it'll be from diesel buses. Will electric buses in service need to wait longer at North Broadway, or will the existing wait/break times give them enough charge? Do & will buses stay in service from begging to end of service, or do they serve part of the day with others taking over later?
I don't normally have a reason to ride the 70/Grand, but I will at least once when the new electric articulated buses begin service.
— Steve Patterson