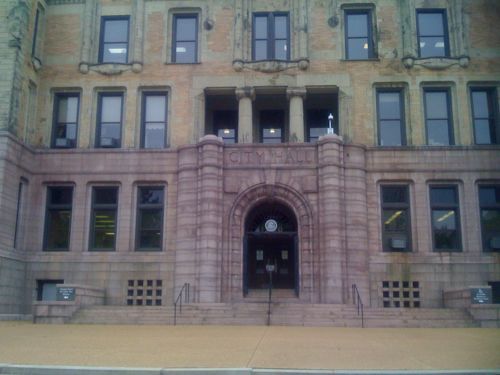 The St. Louis Board of Aldermen meet at 10am today, their 28th meeting of the 2019-2020 session. As previously noted, they have the first two meetings labeled as Week #1, so they list this as week/meeting 27.
Today's agenda includes two (2) new bills.
B.B.#191 — Rice/P.Boyd/Spencer/Navarro/Ingrassia/Guenther Green – An Ordinance amending Ordinance 68597, by creating and defining six Temporary Food Permit Types with a permit fee schedule; identifying Low Income, Low Access census tracts; establishing a Temporary Food Safety Training Special Fund to help pay for Temporary Food Safety Training; recognizing and requiring a free application with the Health Department for Cottage Food Production Operation Temporary Food Permit waivers, established by RSMo. § 196.298; and further explaining what happens to a new annually approvable food permit that is not approved within ninety (90) days, all to be codified in Chapter 11.42 of the Revised Code of the City of St. Louis.
B.B.#192 – Vollmer – An Ordinance authorizing the Amendment to Ground Lease ("Amendment") between the City of St. Louis and Lucas-Hunt Associates, L.P., a Missouri limited partnership, for property and improvements commonly known as the Hampton Gardens Apartments located at 5927 Suson Place, St. Louis, Missouri 63139.
Their informal calendar includes one Bill for perfection— a public vote to reconsider reducing the size of their body in half.
Board Bills for Perfection – Informal Calendar
IGA B.B.#11 – Muhammad/Vaccaro – An ordinance submitting to the qualified voters a proposed amendment to the Charter of the City to maintain the Board of Aldermen as a body of twenty-eight Aldermen representing twenty-eight wards and preventing its reduction beginning December 31, 2021 to a body of fourteen Aldermen representing fourteen wards as called for under Article I, Section 3 of the City Charter; proving for an election to be held for voting on the proposed amendment and the manner for the voting; and for the publication, certification, deposit, and recording of this ordinance; and containing an emergency clause.
I'm still in favor of cutting the number of members from 28 to 14 — what matters more to me is how the new ward boundaries are drawn.
Republican senators rolled out a plan Tuesday to ask Missouri voters to undo key parts of a nationally unique redistricting model that directs a demographer to draw new legislative districts with "partisan fairness" and "competitiveness" as top criteria.

The Republican proposal would abolish the demographer position and relegate political fairness and competitiveness to the bottom of the priority list, behind such criteria as compact and contiguous districts that keep communities intact. (AP via NBC News)
The Board of Aldermen meeting begins at 10am, past meetings and a live broadcast can be watched online here. See list of all board bills for the 2019-2020 session — the new bills listed above may not be online right away.
— Steve Patterson