I remember my first time entering an ALDI grocery store. It was the early 90s, I'd just moved to St. Louis and was looking for work. They were hiring for management positions. So I went to the location that was on the southeast corner of Jefferson & Lafayete.
The interior lighting was awful, the packaged food all contained questionable ingredients, and they only accepted cash  — not even debit cards. The management positions required relocation, which didn't interest me. I also wasn't interested in becoming a shopper.
In the late 90s or so living in Dutchtown & Mt. Pleasant neighborhoods I would occasionally shop at the ALDI on South Grand (1992) or Gravois near Kingshighway (1997), though what I'd buy was very limited.  I'd usually shop at the Shop-n-Save at Gravois Plaza, or the Schnucks at Loughborough Commons.
Then in late 2007 I moved to Downtown West and, in early 2008, had a massive stroke. In  February 2013 my then-boyfriend moved in with me — we needed more food on a budget.
Over the last few years I've become a huge fan of German  grocery store chain ALDI. Because of their limited selection it's not the only place we buy groceries, but we go once a month to stock up. Each week is a big stock up trip: ALDI, Trader Joe's, Costco, Target. In between I get a few items at Culinaria 2-3 times per week.   Yesterday was the first weekend of the month, so I went to ALDI.
The nearest ALDI to our apartment is at Natural Bridge & Grand (1999). I've shopped there once in the last year. It was ok. I've also  been to the ALDI in Jennings a few times. However, usually I would drive to the newer ALDI at Delmar & Kingshighway (2013).
When Shop-n-Save closed up all their remaining locations (2017) I wondered how long that space would stay vacant. A few years earlier the ALDI on Grand wanted to take over the former McDonald's location, closing the street between them, so they could build a new store. Thankfully they weren't allowed to close Phillips Place.
So it was no surprise when ALDI announced they were taking part of the former Shop-n-Save location. When I first went to the new location after it opened I was very glad it adopted their new interior design that we'd seen in a newish ALDI in St. Louis County.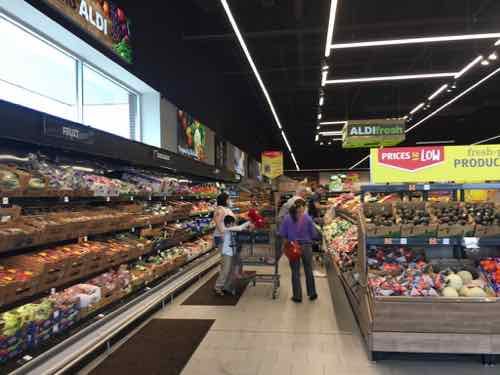 While the new location is a very pleasant shopping experience, getting here isn't easy for pedestrians. Most weeks we do our bulk shopping together with our car. There have been weeks, depending upon my husband's work schedule,  where I use transit to get essentials. If that occurs on an ALDI week/weekend, I'll have to go back to Kingshighway & Delmar. I've posted before how Gravois Plaza has zero ADA-compliance accessible routes from public sidewalks to any building on site. The newish Wendy's is the only exception.
The previous ALDI was great for pedestrians, right up to the sidewalk with a bus stop right out front on the busy #70 bus.
b
Even though it's my favorite favorite grocery store, for now, it is not perfect. Most ALDI stores have disabled parking next to the building, allowing us to walk into the store without needing to cross a busy drive. Here the disabled parking is out front — meaning I must cross the main drive for the entire shopping center. When exiting the store and going to our car with a cart I have to work really hard to keep the cart from dragging me into the drive/lot faster than I can walk — the slope doesn't appear that drastic, but it is. So I have to walk slower across the drive.
The store is still compact compared to other supermarkets, but this ALDI feels more spacious than older ALDI locations. Yesterday afternoon it was very busy. We even saw at least six Instacart food delivery shoppers in the store!  That's one way to get around trying to access the store as a pedestrian/transit user.
We've been very pleased with everything we've bought — except cold dill pickles in the deli case. I still have to read labels as some items still contain high-fructose corn syrup. Very glad they accept all major credit cards and have ApplePay at registers.  Hopefully at some point pedestrian access will be retrofitted at Gravois Plaza.
— Steve Patterson