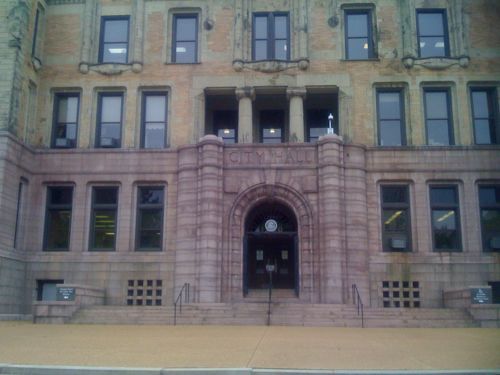 The St. Louis Board of Aldermen will meet at 10am today, their  4th meeting of the 2019-2020 session.
Today's agenda includes five (5) new bills:
B.B.#35 – Roddy – An ordinance authorizing the execution of an intergovernmental cooperation project agreement among the City, the City Foundry Transportation Development District, and the City Foundry Community Improvement District prescribing the form and details of said agreement; making certain findings with respect thereto; authorizing certain other actions of city officials; and containing a severability clause.
B.B.#36 – Navarro – An ordinance authorizing the Mayor and Comptroller to execute, upon receipt of and in consideration of the sum of One Thousand Dollars ($1,000.00) and other good and valuable consideration, a Quit Claim Deed to remise, release and forever quit-claim unto 6005 WESTMINSTER LLC certain city-owned property located in City Block 5423, which property is known by the address of 6001-5 Westminster Place.
AGENDA NO. 3 MAY 10, 2019 3
11. First Reading of Board Bills – (cont.)
B.B.#37 – Bosley – An ordinance providing that in the event that any City of St. Louis port district is expanded or additional port districts created in the City pursuant to Section 68.015 of the Revised Statutes of the State of Missouri the area or any portion thereof that lies within the boundaries set forth in Section One of this ordinance shall be excluded and left out of the designated area of such expanded or newly created port district.
B.B.#38 – Middlebrook – An Ordinance amending Ordinance No. 69650 relating to a Phase 2 Redevelopment Agreement between The City of St. Louis, Missouri and Carrie TIF, Inc. and containing a severability clause.
B.B.#39 – Ingrassia/Davis – An ordinance amending Ordinance# 62220 approved February 6, 1991 by modifying the terms of real estate tax abatement and amending the attached Redevelopment Plan by adding Phase IV to be completed by May 1, 2029.
The meeting begins at 10am, past meetings and a live broadcast can be watched online here. See list of all board bills for the 2019-2020 session — the new bills listed above may not be online right away.
— Steve Patterson