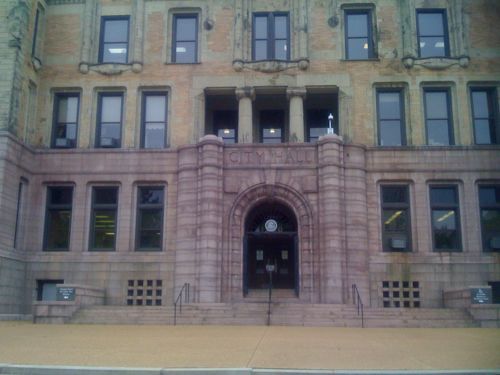 The St. Louis Board of Aldermen will meet at 10am today, their 27th meeting of the 2018-2019 session. This is the last full board meeting of 2018, meetings will resume on Friday January 11, 2019.
Today's agenda includes eight (8) new bills:
B.B.#182 – Ingrassia – An Ordinance amending Section 10 of Ordinance No. 69735, effective May 25, 2014, and codified in Section 11 of the Revised Code, relating to the identification of High Merit historic properties in the City that are undergoing demolition by neglect, with addition of a new subsection C to Section 10 of Ordinance No. 6973 regarding the determination of Undue Economic Hardship.
B.B.#183 – Number Not Used This Session
B.B.#184 – Muhammad – Pursuant to Ordinance 68937, an ordinance authorizing the honorary street name Rep. Joshua Peters Way, which shall begin at the intersection of North Newstead and Penrose and run north on North Newstead to the intersection of North Newstead and Carter.
B.B.#185 – Vaccaro – An Ordinance establishing a four-way stop site at the intersection of McCausland and Bancroft regulating all traffic traveling eastbound and westbound on Bancroft at McCausland and regulating all traffic traveling northbound and southbound on McCausland at Bancroft, and containing an emergency clause.
B.B.#186 – Bosley – An ordinance approving a Redevelopment Plan for 3861 St. Louis Ave.
B.B.#187 – Kennedy – An ordinance approving a Redevelopment Plan for 4965-4975 Dr. Martin Luther King Drive.
B.B.#188 – Ingrassia/Green/Rice – An ordinance to designate portions of the Tower Grove East Neighborhood as a Local Historic District under provisions of Title Twenty-Four of the Code of the City a complete description of the boundaries of the District more fully described in the body of this ordinance, and providing for a development plan including Design Standards to be applied within the district and containing a severability clause.
B.B.#189 – Coatar/Ingrassia – An ordinance approved and recommended by the Preservation Board and the Planning Commission pertaining to the Lafayette Square Historic District; amending Ordinance 69112, repealing and replacing certain standards for the Lafayette Square Historic District as set forth herein.
The meeting begins at 10am, past meetings and a live broadcast can be watched online here. See list of all board bills for the 2017-2018 session — the new bills listed above may not be online right away.
— Steve Patterson