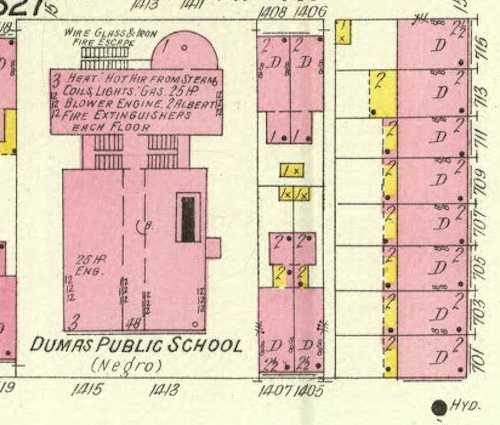 Free public education in St. Louis began 180 years ago today — 74 years after the city was founded:
The city was founded by the French in Spanish territory in 1764. French fur traders Pierre Laclede and Auguste Chouteau founded St. Louis on high land just below the confluence of the Mississippi and Missouri Rivers. (Explore St. Louis)
The city's population in 1830 was 4,977, but by 1840 was 16,469:
The children of St. Louis responded for the first time to the call of a public school bell. Private schools had long operated in the city, but until the Spring of 1838 there was no free general education. Land grants for schools were provided through the Louisiana cession and a board of school trustees was formed in 1817.Confusion over titles of the so-called "school lands" delayed the establishment of a school for several years. In 1831 a new school board was organized under an act of the Missouri legislature, and in 1837 plans were completed for two schoolhouses.

The first, Laclede Primary School at Fourth and Spruce streets, opened its doors April 2, providing elementary education for both boys and girls, and requiring tuition only from those who could afford to pay. The second school opened a few days later, and in 1841 the Benton School followed. Male teachers received a salary of $900 per year and female teachers received $500. (St. Louis Day by Day by Francis Hurd Stadler, page 62)
Well. poor white kids were now getting a basic education in this time before the Civil War. Keep in mind St. Louis University was founded two decades earlier, in 1818 — so only those who could afford private schools would've attended for decades. Washington University in St. Louis, also private, was founded 15 years after the first public school, in 1853.
I wanted to know more so I began searching:
In July 1837, the board agreed to build two school buildings, known as the North School and the South School, respectively located at the northeast corner of Broadway and Martin Luther King Boulevard (then Cherry Street) and at the southwest corner of 4th and Spruce streets. In December, the board met to purchase supplies and to interview potential teachers, and by March 1838, they had selected two candidates, David Armstrong and Miss M.H. Salisbury. The South School, later named Laclede Primary School, opened on April 1, 1838, with Edward Leavy and Sarah Hardy as co-principals.A third school, later named Benton School, opened in January 1842 at the northwest corner of 6th and Locust. The North School, for which the Board initially could not find a teacher, was abandoned and sold shortly after construction of Benton School due to the encroachment of a nearby market.

With the growth of the city, the school building campaign continued at a rapid pace. Between 1840 and 1860, more than twenty new schools were built by the Board, while several others occupied rented space. Among these new schools was the first high school in St. Louis, which opened inside Benton School in February 1853. Approximately 70 students enrolled in the school, and its first principal was Jeremiah D. Low. Courses offered included higher arithmetic, grammar and composition, basic and advanced algebra, geometry, trigonometry, surveying, navigation, and the Latin and German languages. The high school proved very popular among all social classes, and it encouraged attendance at lower level schools. After two years of construction, the first high school building, known as Central High School, opened on Olive Street in July 1855.

In 1848 William Greenleaf Eliot, the Unitarian clergyman in Saint Louis, was elected chair of the school board. He had a passion for creating schools. He and his congregants worked on a campaign to fund the expanding district. Only weeks after the St. Louis Fire of 1849, St. Louis voters approved a 1/10 percent property tax to support the district, and three years later, the Missouri General Assembly passed a school tax, which set aside 25 percent of state funds for education and provided schools with money depending on their enrollment. During the 1850s, it became a St. Louis school tradition for students at each school to "go a Maying", which was to take an excursion into the countryside.[29] These early field trips were more for recreation than for learning, but school administrators regarded them as healthy trips.

School closed six weeks early in 1861 due to a lack of operating funds and the outbreak of the Civil War. After the Civil War, in 1866, the district opened three schools for African American students.

The St. Louis Public Schools also opened the first public high school for black students west of the Mississippi, Sumner High School, in 1875.

St. Louis Public Schools opened the first public kindergarten in North America in 1873 under the direction of William Torrey Harris, then Superintendent of Schools, and Susan Blow, who had studied the methods of Friedrich Fröbel, the founder of the kindergarten system.

By the end of the 19th century, the district had 95 schools and employed more than 1,600 teachers. (Wikipedia)
— Steve Patterson