After many years of trying to get bike sharing in St. Louis — the first of two companies has started service:
A docking system could have cost the city more than $5 million a year, Venker said. With the dockless model, companies instead pay the city $500 a year for a permit and $10 per bike per year to maintain services.

Typically, bike share users must first download a smartphone app that is connected to a credit card. To gain a permit in St. Louis, companies must provide smartphone- and credit card-free options. Some companies allow riders to pay in cash or use a prepaid card, then unlock the bike by phone call instead of app. (St. Louis Public Radio)
Docked & dockless? Let's start in chronological order with docked bike share.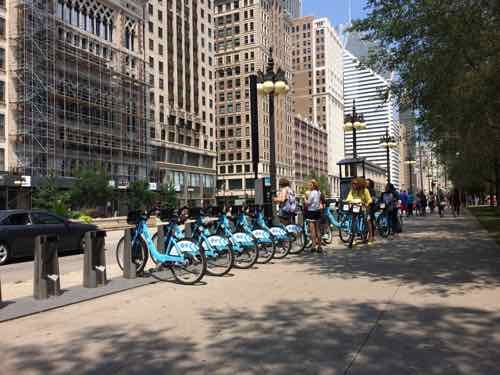 When we visit Chicago a few times each year we see the bike stations everywhere — not just in the tourist hot spots. We also see the bikes getting used all over the city. Chicago has a large biking community so it's natural to see lots of use.
What about other, smaller cities? I've photographed docked bike stare stations in Cincinnati & Oklahoma City.
Bike sharing has happened largely after my stroke, so I've not been a user personally. When I was in Cincinnati in 2015 for a Streetsblog event many in our group of bloggers would use Red bikes when we switched locations. Interestingly, I would often arrive ahead of them or about the same time — using my power wheelchair. This is because only one person can use a station at a time.
These docked bike share systems have largely been a success. Seattle, however, was an exception:
Perhaps the biggest issue, though, is how far apart Seattle's bike stations are from each other. The National Association of City Transportation Officials found that station density is one of the biggest factors in the success of bike-sharing programs. The group has recommended that stations be no more than a five-minute walk apart. Seattle's bike-share stations are located in two clusters: 42 stations downtown and eight in the University District roughly three miles away. (Governing)
So a station might be near your bus stop, office, or hotel but if there's no station near your destination then it isn't of any good to you. With the blogger group in Cincinnati a lot of their time was spent walking to/from stations to destination — in addition to waiting for others at the station.
The solution was to ditch the docks — dockless:
The new "dockless" bike shares have arrived in places like Seattle, Dallas and Washington, D.C., since the summer. They're run by private companies like LimeBike, MoBike and Spin. Riders locate and unlock the bikes using their mobile phones and they can leave them, well, almost anywhere. The bikes have kickstands and lock themselves, so most don't even have to be next to a pole, rack or fence to attach them to.

That means hundreds of new bicycles have hit the streets in these cities in recent weeks. With no set parking spaces or docking stations, many residents worry that the bicycles are further cluttering already crowded sidewalks. But others are excited for a new transportation option, especially because the new services tend to be cheaper and more flexible than the dock-based systems that have proliferated throughout the country over the last seven years. (Governing)
Dockless bike sharing has also frustrated many as bikes are left anywhere and everywhere.
San Diego's dockless bike experience has been more of a free-for-all than in most cities, because San Diego couldn't make an exclusive deal with one operator without violating a previous exclusive deal with a rental company that requires bikes to be returned to docking stations.
 
Supporters of the dockless bikes say regardless of how the battle over potential regulations turns out, the bikes have been a tremendous success with the potential to reduce traffic congestion and greenhouse gas emissions. (San Diego Union-Tribune)
Even bike-friendly Amsterdam temporarily banned them — due to high demand for bike parking!
"We have invested to create more bicycle parking spaces, and we do not want these to be taken by the many commercial bike-sharing systems."

The posting added: "Of course, you are allowed to park a bike in the public space, even a rented or shared bike. What is not allowed however, is using the public space as a place of issuance, which is exactly what a number of shared bike companies is doing now, while occupying scarce parking places badly needed by Amsterdam residents and visitors."

The municipality has stated that all dockless share bikes will be temporarily banned. Talks have been initiated with the dockless companies, including oBike from Singapore, Donkey Republic from Denmark, Dropbyke and FlickBike from Lithuania and Urbee and Hello-Bike from the Netherlands. (Bike Biz)
Which brings us back to St. Louis and the introduction of dockless bike sharing from Lime Bike — one of the two private companies to get a permit from the city.
LimeBike aims to provide a sustainable solution to the first and last mile transportation problem by helping people move around their cities in an affordable and convenient way while eliminating their carbon footprint. We are here to empower future generations to change their behavior so we can save this planet together.

With that vision, we launched LimeBike in June 2017.

LimeBike is not just a tech mobility company. We are a people and relationships company first and foremost. And we?re committed to building with you. (LimeBike)
Here's a video from LimeBike:
I've downloaded their app to see where bikes are located, they've been all over the city since day one. I've seen & photographed many: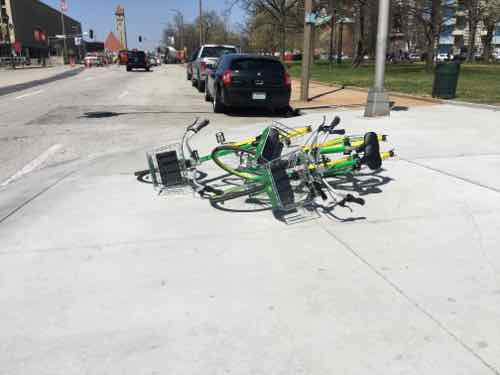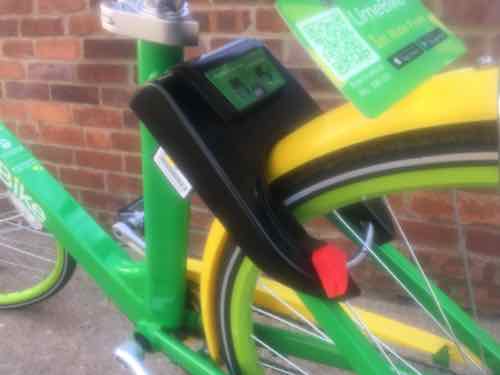 Docked vs dockless, is that it? No, there are now hybrid business models:
Zagster's hybrid Pace system, which it's rolling out in places like Rochester, N.Y., and Tallahassee, Fla., lets riders use docks or park elsewhere. (Depending on the city, users may get charged more for parking without a dock.) But the bikes can't be left free-standing; they have to be locked to something in order to end a trip.

"We believe that bikes should be locked to things," Ericson says. "That whole dockless evolution of dumping your bike anywhere in the street is not good for cities and not good for riders in the long term." (Governing)
I've seen lots of people riding these new LimeBikes. those I spoke to were all quite pleased. The true test will come once the initial newness (and $3 credit) have worn off. I don't doubt someone will leave a bike in my way, but I've been dealing with business signs, cafe tables, and dog poop as a wheelchair user for a decade now — it was 10 years ago today that I came home from 3 months of hospital/therapy following my stroke.
While I can't ride one of these bikes, I love seeing others riding them! It'll be interesting to see how both do once the 2nd permitted company begins offering bikes in St. Louis.
— Steve Patterson