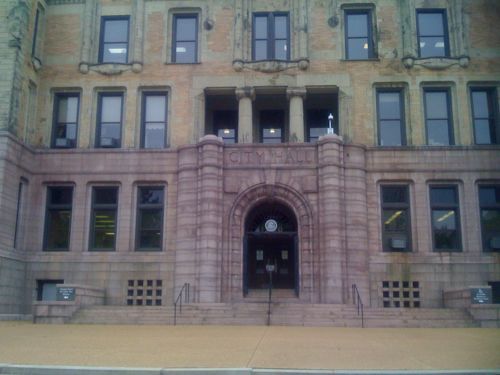 The St. Louis Board of Aldermen will meet at 10am today, their 36th week of the 2017-2018 session. As they're near the end of the session there's not enough time to introduce anymore new board bills and get them passed.
Today's agenda includes the swearing in of newly-elected 8th ward alderman Annie Rice. Rice won a 2-way special election on 2/13/18 — she received 59.75% of the 2,144 votes.  See results and precinct results.
There are also two Board Bills for Perfection – Informal Calendar.
B.B.#99AA – Pres. Reed/Vaccaro/Arnowitz/Navarro/Murphy/ Howard/Boyd – An ordinance pertaining to the collection of funds to assist in the prevention of domestic violence in support of individuals impacted; authorizing the Comptroller to establish "The Domestic Violence Prevention and Family Support Fund".
B.B. #129 – Vaccaro? An ordinance to make it unlawful, subject to those exceptions stated herein, for any person to ride, walk or otherwise lead a horse or horses on, along or over the public streets, alleys and sidewalks within the City and the paths and trails, and any extensions thereof within the City.
The meeting begins at 10am, past meetings and a live broadcast can be watched online here. See list of all board bills for the 2017-2018 session. The board will meet again one week from today, after that the next full meeting is Monday April 16th  — known as Sine Die. The next day,  Tuesday April 17th, is the first meeting of the 2018-2019 session.
— Steve Patterson