For many years our transit agency, Metro, operated a retail store as part of the convention center, known as America's Center. It was connected to the visitor's center at 7th & Washington Ave, This location was a block West of the Convention Center MetroLink station.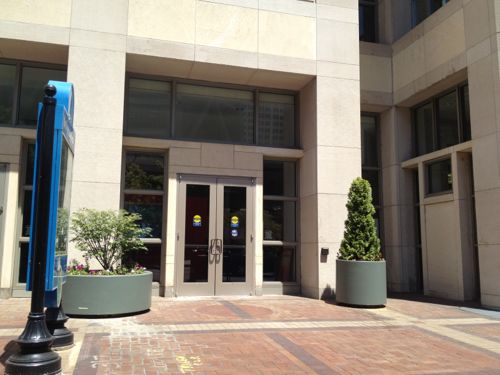 In a June 2013 post entitled Metro Fails At Retailing I wrote:
I'd like to see Metro make it obvious to anyone walking, or driving, past the MetroRide store to know it is a place to buy transit passes and pick up  schedules.  As a fan of gift shops, I'd also like to see St. Louis transit-related merchandise: t-shirts, postcards, magnets, calendars, etc. I still have a puzzle of the Philly transit map I bought on vacation in 2001, but I have almost nothing for St. Louis. I'd love a toy MetroBus.

Step up your retail game Metro!
They recently moved their store to the NW corner of 8th & Pine — in the Arcade building. The space was briefly occupied by Webster University's cafe called Gorlok Grind (March 2016 — June 2017)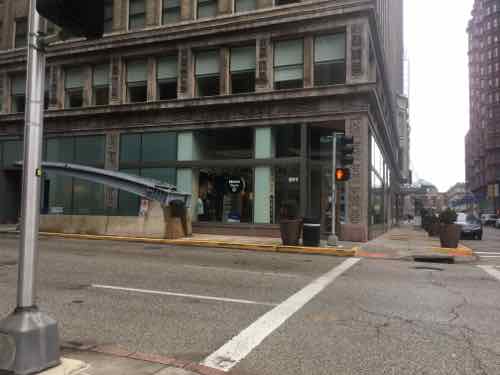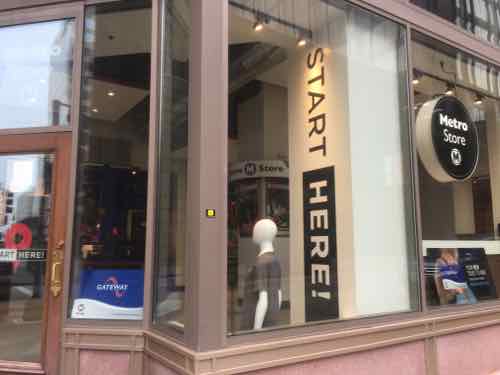 I have no knowledge of the old or new lease terms. Perhaps this new space will better serve Metro customers and attack some new riders. Though at a MetroLink station, it isn't near any MetroBus routes. They might have done it, but they need a vending machine on Washington Ave to purchase passes/tickets — especially downtown trolley tickets.
What Metro really needs is the smart card system, from a July 2014 post on Metro's blog:
The smart card is part of Metro's new fare collection system, a more convenient, secure way to pay Metro transit fares. Instead of paper tickets or passes, the Gateway Card will contain a computer chip that stores Metro passes or cash value. The fare is automatically deducted when customers tap their card on fare equipment each time they ride.

"Much of our current fare collection equipment can be replaced with new technology to improve both our efficiencies as well as the customer experience." said John Nations, Bi-State Development Agency/Metro President & CEO. "The Gateway Card and this new system will transform the way we do business and will bring our operations up to 21st century standards."

The smart card system is currently being tested in preparation for next year's rollout. Hundreds of Metro customers have volunteered to test the new system before it is rolled out to the general public. Metro will gradually phase in Gateway Cards to its customer groups until all customers have moved to smart cards.
Nearly four years later and we're still waiting for the rollout. I get their caution, the rollout of these new systems in other cities have gone poorly.
Chicago's 2013 rollout, for example:
CTA fare options that expired this week are back in place until the company that is being paid almost a half-billion dollars to manage the implementation of the new Ventra system fixes problems that have left thousands of customers frustrated, the president of the CTA said Wednesday.

The transit agency made the abrupt, if temporary, reversal in response to angry riders who this week overwhelmed a Ventra hotline in an effort to activate their new cards and in some cases have demanded their old, time-tested fare-payment choices back.

So until further notice, sales of magnetic stripe transit cards will continue at rail stations, and Chicago Card customers will be allowed to add value to their cards. But CTA President Forrest Claypool said Wednesday he is determined to stick to a Dec. 15 deadline to stop accepting the old fare cards on trains and buses. (Chicago Tribune)
We began regular trips to Chicago a year later, the Ventra card system has worked great for us.
No need to worry about having a stack of dollar bills or coins.
No need to worry about holding onto transfers.
Easily add more money to cards online or via our phones.
In 2015 I got a reduced-fare card for Chicago.
In Chicago it's rare to see a person using cash to pay bus fare and boarding goes so much quicker as a result.
Last September I spoke with Metro's Executive Director Ray Friem about these cards at a ribbon-cutting event at their North Hanley Transit Center. Friem said they've been working on many pages of problems getting fare systems from two different vendors to play nice with each other. Metro uses one vender for MetroBus, another at MetroLink light rail fare gates.  When we spoke on September 28, 2017 he said the problems were down to just 3 pages and he expected a rollout late in the year — 2017.
My followup email from a month ago is still unanswered. You can see the draft Gateway Card website here.
— Steve Patterson