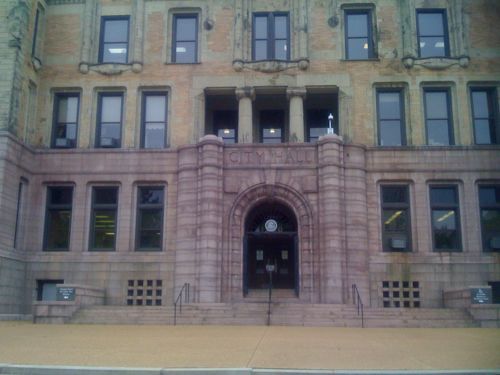 The St. Louis Board of Aldermen will meet at 10am today, their 35th week of the 2017-2018 session.
NEW BOARD BILLS ON THE AGENDA* FOR INTRODUCTION TODAY 2/23/18:
*Note that just because a bill is on the agenda doesn't mean it'll be introduced, similarly, bills not on the agenda might be introduced if they suspend the rules to do so. This information is based on the published agenda as of yesterday @ 8am:
B.B.#266 – Navarro –An ordinance approving a Redevelopment Plan for 215 York.
B.B.#267 – Moore – Pursuant to Ordinance 68937, an ordinance authorizing the honorary street name, Frankie Muse Freeman Boulevard, to begin at the intersection of Lincoln Avenue and North Sarah and run east on Lincoln to the intersection of Lincoln and Bishop P. L. Scott Avenue.
B.B.#268 – Muhammad –An ordinance prohibiting the issuance of any package or drink liquor licenses for any currently non?licensed premises within the boundaries of the Twenty-First Ward Liquor Control District.
B.B.#269 – Guenther –An Ordinance establishing a four-way stop site at the intersection of Iowa and Juniata regulating all traffic traveling northbound and southbound on Iowa at Juniata and regulating all traffic traveling eastbound and westbound on Juniata at Iowa, and containing an emergency clause.
B.B.#270 – Boyd –An ordinance approving a Minority and Women-Owned Business Enterprise Program for the City; authorizing certain other actions; amending Ordinance 69427 pertaining to workforce inclusion by amending Sections Three, Four, Five, and Ten of said ordinance, which are codified as Sections 3.110.020, 3.110.030, 3.110.040, and 3.110.090 of the Revised Code of the City of St. Louis, to increase percentage goals for minority, women, and city residents, and to put in place a mandatory one?year disqualification penalty and liquidated damages for developers and contractors who fail to meet the goals; and containing a severability clause.
B.B.#271 – Navarro/Williamson — An ordinance pertaining to the Skinker-DeBaliviere Historic District; amending Ordinance #57688, approved September 22, 1973 and having as its subject matter the boundary and regulations and standards for the Skinker-DeBaliviere-Caitlin Tract Parkview Historic District, and providing new standards for the Skinker-DeBaliviere-Caitlin Tract Parkview Historic District.
The meeting begins at 10am, past meetings and a live broadcast can be watched online here. See list of all board bills for the 2017-2018 session.
— Steve Patterson