The city's Land Reutilization Authority (LRA) was a critical tool in the era of massive land clearance for urban renewal projects, like Pruitt-Igoe. This tool, largely unchanged, has been in continuous use since thr failure of urban renewal decades ago. It needs to be rethought or ditched entirely. They don't even know what they have, or how to market it.
Their property search lists thousands of properties for sale. It takes a lot of staff to handle that much property, but not all property is equal. Take 2752 Wyoming.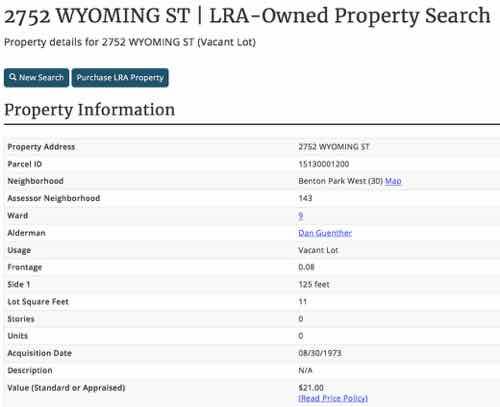 I thought perhaps they also have an adjacent lot…but no. It says the value is $21 — for a long time I've wanted to get the paperwork together along with a cashier's check and make a form,sl offer to buy one of these "vacant lots."  There are other examples of lots like this.
It's no wonder they can't market properties. I do think they can when it means drawing a red line around any acres and telling someone they can raze everything inside the line. Otherwise, they seem clueless.
The recent non-scientific Sunday Poll:
Q: Agree or disagree: Land-banking city-owned properties in low-density neighborhoods is the best strategy for redevelopment.
Strongly agree 2 [11.11%]
Agree 3 [16.67%]
Somewhat agree 3 [16.67%]
Neither agree or disagree 1 [5.56%]
Somewhat disagree 3 [16.67%]
Disagree 1 [5.56%]
Strongly disagree 3 [16.67%]
Unsure/No Answer 2 [11.11%]
Land banking is a great tool — but it's not the best way to prevent thousands of properties from sitting around for decades. It can also prevent slow incremental change. Geez, no wonder North St. Louis is so vacant and thr population has dropped more than a 100k since I moved here in 1990; We do the wrong thing for years and continue because "that's how things are done." Board Bill 187 doesn't even begin to scratch the surface.
— Steve Patterson