In the non-scientific Sunday Poll, an overwhelming majority of those who voted felt a new project wasn't adding too much density. I agree. Much greater density would've been good too, but the number of units was limited by the amount of parking that could fit into the former 1-story warehouse. I applaud the developers for leaving a small storefront space along the street.
The Milton is located at 4534 Olive.
Here are the poll results, the response was slightly higher than in recent weeks.
Q: Agree or disagree: Adding a 4-story tower w/30 apts to a 1-story warehouse is just too much density.

Strongly agree 2 [4.08%]
Agree 1 [2.04%]
Somewhat agree 0 [0%]
Neither agree or disagree 1 [2.04%]
Somewhat disagree 3 [6.12%]
Disagree 10 [20.41%]
Strongly disagree 30 [61.22%]
Unsure/No Answer 2 [4.08%]
I'm curious about the few that do think it's too much density.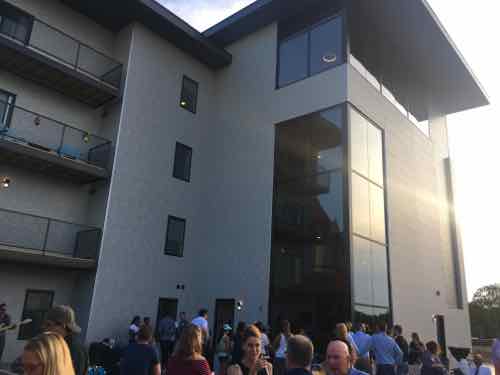 While I'm glad the front faced was reused, and I like modern contrasting with old — there's something just not quite right about the new tower. It's not displeasing, just not outstanding. Proportions and detailing — or lack of perhaps?
There were two interior details that were a miss — thresholds at each unit and out to each balcony.
So it's not a perfect project, but it is a good example of how to retain a nice old facade while adding living space. In the next 5-20 years as fewer people own cars hopefully we'll see less space & expense to accommodate car storage in new projects.
— Steve Patterson