For months now I've been wanting to post about auto financing. Last month John Oliver did a segment on it (below) that got me motivated:
Is there another subprime loan crisis brewing?

John Oliver, host of HBO's "Last Week Tonight," found disturbing similarities between the easy loans dished out for used cars and the mortgage crisis that devastated the economy in 2008. 

Now, car dealers are making high-risk, high-interest loans that "trap people with few options into paying vastly more than a car is worth," Oliver said. "It's just one of the many ways in which when you are poor, everything can be more expensive." 

The average interest rate on a "buy here, pay here" loan made by used-car dealers is 19 percent, but some buyers are paying up to 29 percent for loans that many default on within an average of just seven months.  (Huffington Post)
Oliver pointed out bad subprime auto loans are being bundled and sold as investments — the same way bad subprime mortgages were dome a decade ago.
Note: a few words aren't suitable for all work environments.
Some have pointed out that the auto loan market is too small to cause another recession. Even assuming these won't cause another recession, the reality is disturbing.
In most places, the working poor need a reliable car to get to work. Even in regions with high frequency public transit, commutes can take hours. We've designed our built environment to male car ownership mandatory. So you ask?
For those who live paycheck to paycheck, buying a car isn't an easy task. When my husband and I bought our used Honda Civic in 2014 we got a loan at our credit union. We didn't qualify for their best interest rate, but still got a reasonable 3.69%APR. They required the vehicle not be more older than 7 years and have under 100,000 miles. Being pre-approved allowed up to go car shopping with confidence.
Here's the numbers for our auto loan:
$9,003.75 financed
$596.01 in interest
$9599.76 total after 42 months
Our last payment will be in November 2017. We got a good price on the car in 2014 so we've never been upside down on our loan.
For millions of people, their experience is very different. Their car breaks down, or they get a new job where they suddenly need a car. They turn to a nearby used car dealer where they can pay there.
The problem with this route is:
The sales price is well-above the value of the car.
The interest rate is 19%-25%.
The total paid, if paid in full, is double the value of the car at purchase. Double!
Wednesday 9/14/16 I went to the website of one such dealer, picking out a car with a high reliability rating, decent fuel mileage, and less than 100k.
To someone needing a car to get to/from work at 4-cylinder Camry is a good choice, with only 88,749 miles it should have a lot of life left. The asking price is the first problem. Sure, prices are negotiable — but not much.
I also went to Kelly Blue Book to see what someone should expect to pay at a dealer for a 2006 Toyota Camry LE with 88,749 miles.
But this Camry is too old to get financed through my credit union, right now the oldest year model on used car loans is 2009. So I went back to the website and filtered their 299 cars in inventory to narrow down to 2009 & newer models under 100K miles. I got 59 matches — so 20% of their inventory could be financed elsewhere. I then sorted the 59 by price, ranging from $9,995-$15,995.
But it's new enough (2011) and low milage enough (97,257) that it could be financed at my credit union. But the credit union wouldn't lend more than the value.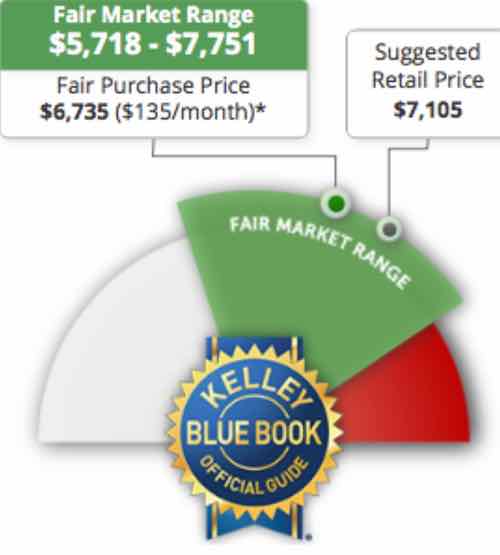 So I wanted to compare this 2011 Chevy Aveo purchased/financed two different ways. First up, buy here pay here:
Financed: $9,995
Term: 48 months
Interest: 22% (middle range)
Payment:$314.90
Total:$15,115.36
Interest: $5,120.36 (33.88% of payments made)
Wow, those are big car payments for a 7 year-old car with nearly 100K miles. At this price it would be hard to afford routine maintenance and repairs for the length of the loan. Now let's look at the same car if bought elsewhere for the suggested price and financed at a local credit union:
Financed: $7,105
Term: 48 months
Interest: 3.69% (lowest rate is 2.49%)
Payment:$159.44
Total:$7,653.14
Interest: $548.14 (7.16% of payments made)
The monthly payment is half with a reasonable interest rate, so hopefully the buyer could afford to keep up the car, not miss any payments, etc. I used an auto loan calculator to do the math for both.
Some of you likely think this is just the free market at work. It is, which is why unregulated free-market capitalism means a few profit while others are bankrupted. We shouldn't force people to buy a car so they enter into an unjust racket.
By contrast, those with higher incomes have many more options. When we're in Chicago dealers there routinely advertise new car leases with one up front payment.
A one pay lease, also known as a single pay or pre-paid car lease, is similar to a standard lease in that you are purchasing the use of the vehicle only for a set period of time. Like a standard lease, you agree to return the vehicle to the dealer in good condition and under a pre-determined number of miles at the end of this time. The difference is that instead of making monthly payments throughout this period, the entire amount is paid at the beginning of the lease. (Carintelligent)
That one payment of $12,000 will save you interest, but also cost you on interest it would've earned. It's expensive to be poor.
— Steve Patterson