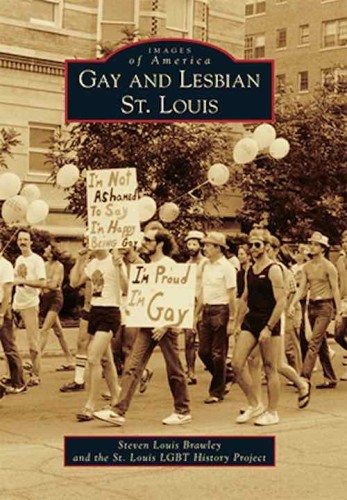 A new book comes out in a month: Gay and Lesbian St. Louis by Steven Brawley will be part of Arcadia Publishing's excellent Images of America series:
The Images of America series chronicles the history of small towns and downtowns across the country. Each title features more than 200 vintage images, capturing often forgotten bygone times and bringing to life the people, places, and events that defined a community. Local authors transform dusty albums and artifacts into meaningful walks down memory lane. Millions of vintage images become tiny time capsules, re-establishing memories of the formerly familiar, introducing generations to what once was, and reminding us all of what has been (and can be) in every corner of our nation. The popular series has expanded over time to preserve and celebrate additional worthy topics including local landmarks, architecture, ethnic groups, and more.
I have others from this series like Downtown St, Louis and Route 66 in St. Louis. The series has nearly 7,400 titles! With so many titles in the series they can get into subjects that don't appeal to huge markets — instead focusing on niche subjects. Everyone interested in St. Louis history will find Gay and Lesbian St. Louis of interest.
The chapters are
Pioneers
Places
Milestones
Groups
Everyday Life
I think readers would be most interested in Chapter 2 — Places. I moved to St. Louis in August 1990, taking an apartment on Lindell in the Central West End — this started becoming the "gayborhood" in the 1960s.  A neighbor in my building was the owner of Heffelump's — the gift shop even in the early 90s.
I've already spent hours looking through this book, I know I'll spend many more. Author Steven Brawley, founder of the St. Louis LGBT History Project, is a personal friend. This book comes out on February 29th with a launch party at Left Bank Books.
— Steve Patterson