I recently received a very interesting new book: End of Automobile Dependence: How Cities are Moving Beyond Car-Based Planning by Peter Newman and Jeffrey Kenworthy. It's always nice to hear that at least other cities are changing their planning practices away from old car-based models.
When looking at books I start with the table of contents:
The Rise and Fall of Automobile Dependence
Urban Transportation Patterns and Trends in Global Cities
Emerging Cities and Automobile Dependence
The Theory of Urban Fabrics: Understanding the End of Automobile Dependence
Transportation Planning: Hindrance or Help?
Overcoming Barriers to the End of Automobile Dependence
The End of Automobile Dependence: A Troubling Prognosis?
Conclusion: Life after Automobile Dependence
And I look through the index to see covered topics.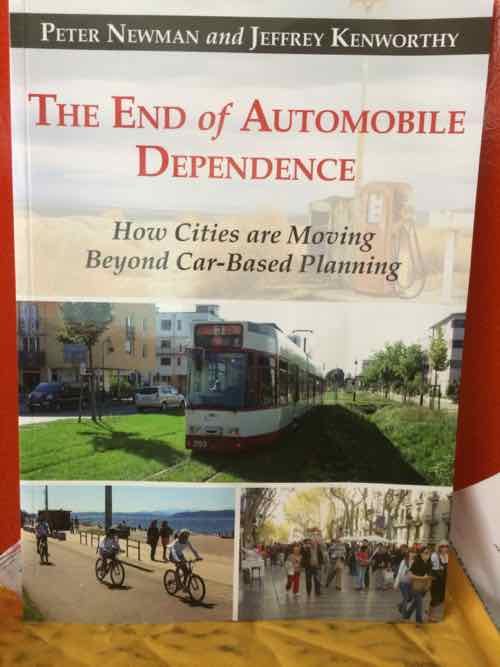 From publisher Island Press:
Cities will continue to accommodate the automobile, but when cities are built around them, the quality of human and natural life declines. Current trends show great promise for future urban mobility systems that enable freedom and connection, but not dependence. We are experiencing the phenomenon of peak car use in many global cities at the same time that urban rail is thriving, central cities are revitalizing, and suburban sprawl is reversing. Walking and cycling are growing in many cities, along with ubiquitous bike sharing schemes, which have contributed to new investment and vitality in central cities including Melbourne, Seattle, Chicago, and New York.

We are thus in a new era that has come much faster than global transportation experts Peter Newman and Jeffrey Kenworthy had predicted: the end of automobile dependence. In The End of Automobile Dependence, Newman and Kenworthy look at how we can accelerate a planning approach to designing urban environments that can function reliably and conveniently on alternative modes, with a refined and more civilized automobile playing a very much reduced and manageable role in urban transportation. The authors examine the rise and fall of automobile dependence using updated data on 44 global cities to better understand how to facilitate and guide cities to the most productive and sustainable outcomes.

This is the final volume in a trilogy by Newman and Kenworthy on automobile dependence (Cities and Automobile Dependence in 1989 and Sustainability and Cities: Overcoming Automobile Dependence in 1999). Like all good trilogies this one shows the rise of an empire, in this case that of the automobile, the peak of its power, and the decline of that empire.
I look forward to checking out the references to Bus Rapid Transit (BRT) and Light Rail Transit (LRT).
— Steve Patterson