Those of you who follow this blog on Twitter & Facebook know I post a few pics of the new protected bike lane last week. I'd read about it in an article on the 18th or 19th:
The city also announced the addition of its first parking-protected bike lane downtown on Chestnut Street between Fourth and 20th streets. It uses parked cars and flexible posts to separate the cycling lane from the driving lane. A striped buffer painted on the street also creates space between open car doors and the bike lane. (Post-Dispatch)
It was a few days before I could get over to Chestnut to see in person, passing by at 15th headed to transit.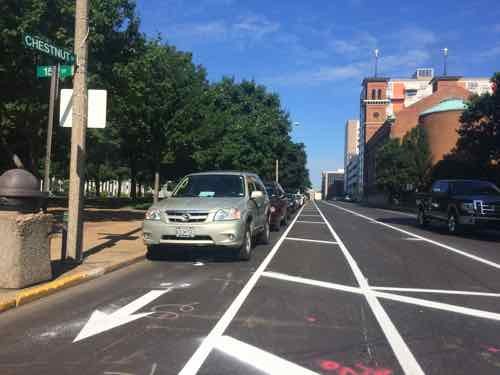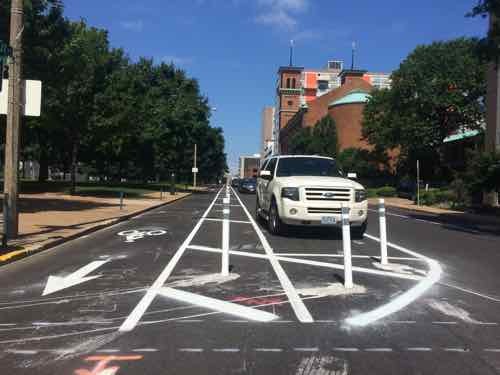 With the bike lane running for 16 blocks, 20th t0 4th, I knew I couldn't just cross at a single point and expect to understand it. If I wasn't disabled, biking the mile distance would be the best way to experience it. Friday morning I started at 20th and made my way East to 4th, mostly on the adjacent sidewalk or at crosswalks. Let's start at 20th: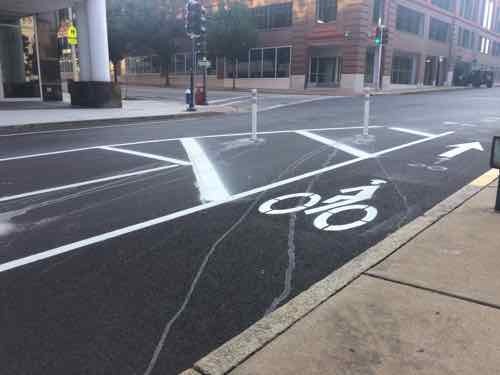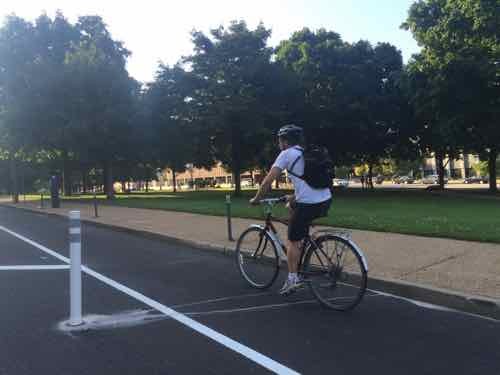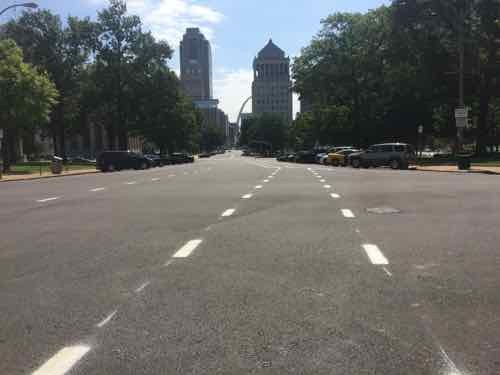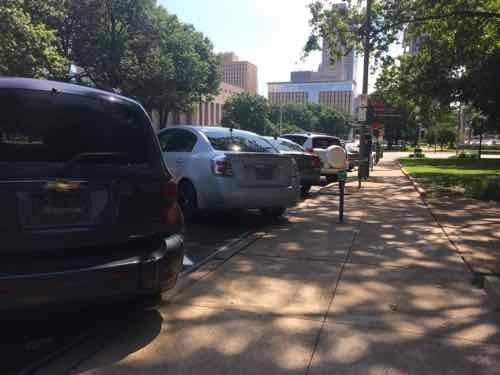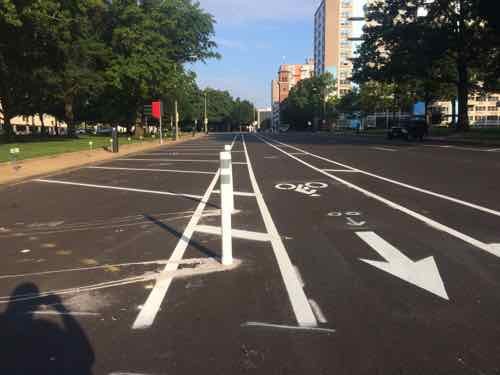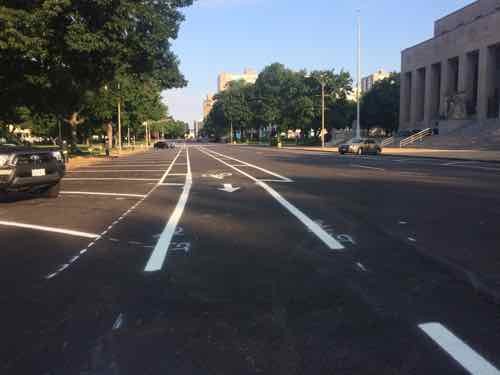 So 20th to 15th is parking-protected, 15th to Tucker (12th) isn't:
Protected: 5 blocks
Exposed: 3 blocks
As we continue East across Tucker things get more complicated. Also back to a single lane for vehicular traffic.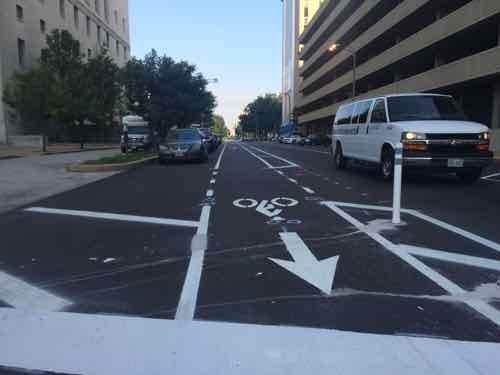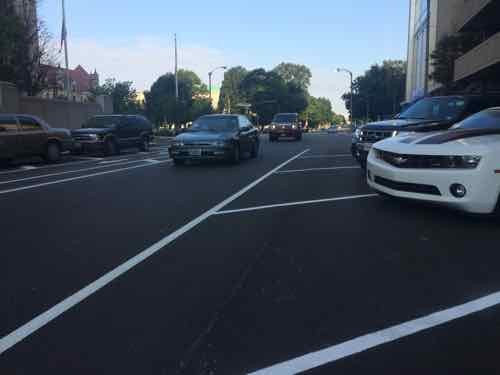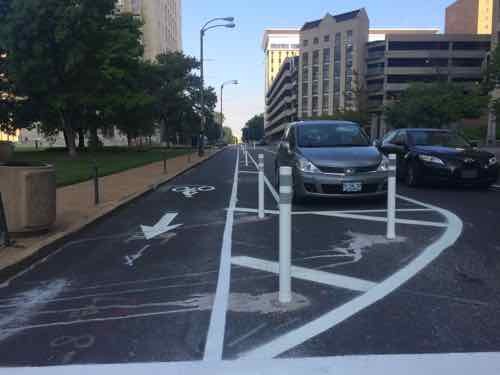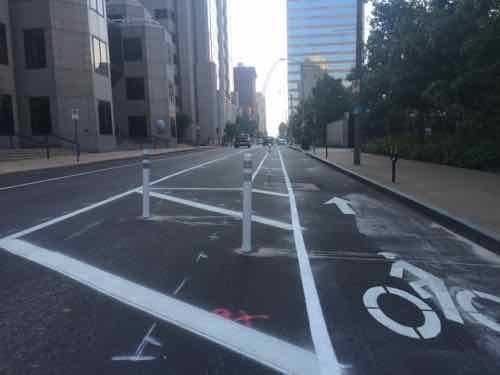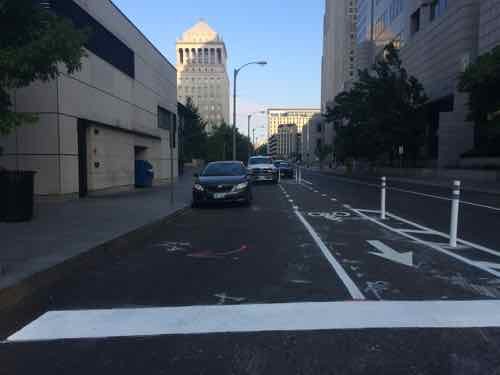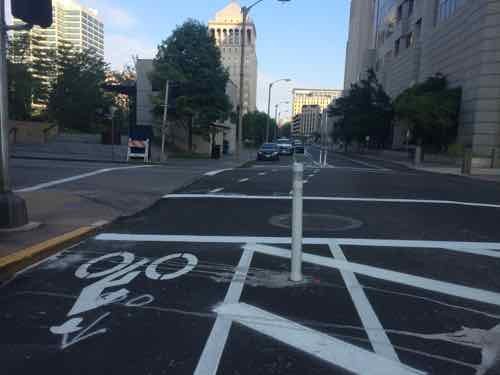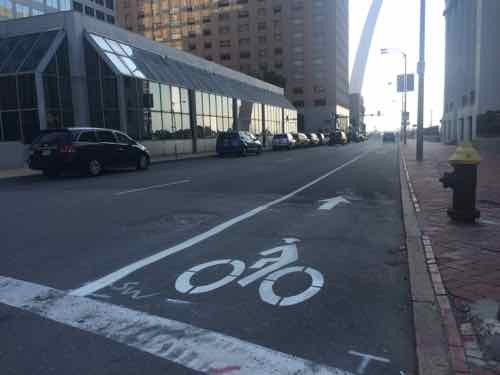 So Tucker to 4th the break down is:
Protected: 3.5 blocks
Exposed: 4.5 blocks
Which gives us totals of:
Protected: 8.5 blocks
Exposed: 7.5 blocks
Of the 16 blocks from 20th to 4th, just over half (53.125%) are protected.
The new white stripes look great against the dark black asphalt, but how will this look in a few years when both fade? I'd like to see the bike half block next to the Civil Courts be protected. When Kiener Plaza gets rebuilt hopefully those two blocks can become protected.
— Steve Patterson