Let's assume the National Geospatial-Intelligence Agency selects the 100-acre site in North St. Louis, over three others in the region, for its new campus, see Urban Renewal Officially Ended In 1974, Still Alive In St. Louis. Will this help or hinder the redevelopment of the surrounding blocks?  The planned clearance of 100 acres will leave a one block wide strip across 22nd, to the East. To the South is Cass Ave and the former Pruitt-Igoe site, to the West is the excessively-wide Jefferson Ave. To the North will be the backs of properties facing St. Louis Ave.
Thus the biggest opportunity for positive impact on exiting development is East of 22nd Street, two corners stand out: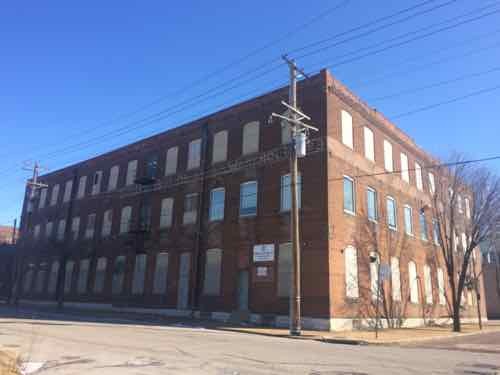 Neither of these corners are architectural gems, but their age is a nice contrast to already built infill and the secure fortress of what the National Geospatial-Intelligence Agency would build. The old cast iron storefront at Madison might house a coffeehouse/cafe — a place for the new employment base to walk to for lunch. This could be a chance for an existing resident to become an entrepreneur, hiring others from the area.
I don't know if the National Geospatial-Intelligence Agency works without outside contractors, if so, the 3-story 19th century warehouse could become office space.   Residential is certainly another option.
If we're going to raze a 100 acre swath of land adjacent to the long-vacant Pruitt-Igoe site we should begin thinking now about how to improve the edges.  If the National Geospatial-Intelligence Agency doesn't pick this site we'll be area on ideas for the area, with other businesses perhaps being interested in the vacant blocks within the 100 acre site.
Great potential exists, but the private market often overlooks these less common areas that require greater creative thought.
— Steve Patterson